Increase Your Sales With The Top Push Notification Services in 2023
Are you an online store owner looking to boost your sales and increase customer engagement? Look no further than the power of push notifications. In this blog, we'll take a deep dive into understanding push notifications and their role in sales.
Then, we'll review the top push notification services available in 2023, including OneSignal, PushEngage, Google Firebase, Airship, WebEngage, VWO Engage, iZooto, WonderPush, SendPulse and PushAssist. We'll also discuss the necessity of push notifications for e-commerce businesses and how they enhance customer engagement, increase website traffic, and retain customers.
Plus, we'll provide criteria to evaluate the best push notification services including user experience and interface, pricing, and packages, integration ease, and support. Choosing the right push notification service is crucial for your sales success – let us help you get there.
Understanding Push Notifications and Their Role in Sales
Push notifications have become a powerful tool for driving customer engagement and increasing sales in the world of e-commerce. These notifications deliver targeted messages to users on their mobile and desktop devices, keeping them informed and engaged with your brand. By delivering timely and relevant information, push notifications have the potential to drive conversions and boost sales.
What makes push notifications even more effective is their ability to be personalized based on user behavior and preferences. With advanced analytics, businesses can track the impact of push notifications on sales and optimize their strategies accordingly. Many popular social media websites and large business sites use push notifications. But many smaller businesses haven't yet realized just how powerful they are.
The Concept of Push Notifications
Push notifications are short, engaging messages that can be sent to users' devices, even when they are not actively using an app or website. These notifications can include text, images, or videos, making them highly interactive and attention-grabbing. By triggering push notifications based on specific events or actions, such as abandoned shopping carts or new product launches, businesses can deliver timely and relevant information to their users.
This instant communication ensures that users are informed promptly, driving immediate action. Additionally, push notifications can be customized with personalization options, like user names or past purchase history, further enhancing the user experience and increasing engagement.
Review of Top Push Notification Services in 2023
Push notifications are a powerful tool for businesses to engage with their customers and drive sales. In 2023, there are several top push notification services available, such as OneSignal, PushEngage, and VWO Engage. OneSignal, for example, is considered one of the best push notification software options for marketers and advertisers, offering web and mobile push notifications. PushEngage, on the other hand, provides desktop and HTTP support, making it a reliable choice.
VWO Engage, known for its limited free plans, is particularly well-suited for e-commerce businesses. Other notable options in the push notification software market include PushCrew, Webpushr, and iZooto. Evaluating the effectiveness of push notifications in increasing sales and engagement is essential when choosing the right service. By integrating push notifications into your marketing strategy, you can effectively reach and engage with your target audience, ultimately leading to more traffic, conversions, and sales.
Popify stands out as a multifaceted tool designed to amplify online business conversions by utilizing strategic popup notifications. It generates sales pop-up notifications for e-commerce websites, displaying recent purchases, product recommendations, or special offers, instilling a sense of urgency and trust among visitors and propelling them toward making purchases.
Acting as a no-code popup builder, it allows for the creation of interactive, customized popups to gather customer interest and build social proof without necessitating coding skills. It seamlessly integrates with e-commerce platforms like Wix, optimizing the efficacy of sales pop-up notifications and proving invaluable for e-commerce store owners.
By presenting recent customer activities, promotions, and exclusive offers through attractive popup notifications, Popify masterfully creates a sense of FOMO (Fear of Missing Out), enriching the overall online shopping experience and engaging visitors effectively.
Pricing
Starter Plan
The Starter Plan is priced at $14.95/mo, catering to those who are initiating their journey, with coverage for up to 10K Monthly Unique Visitors. It offers unlimited impressions and active popups, alongside features like Abandoned Cart Recovery through push notifications. Users have access to full design templates and can customize the design background, border, and text as per their preferences. Round-the-clock customer support ensures users' queries and issues are addressed promptly.
Growth Plan
For those who are expanding, the Growth Plan is available at $24.95/mo, accommodating up to 20K Monthly Unique Visitors. It extends the benefits of unlimited impressions and active popups and integrates features such as Abandoned Cart Recovery via push notifications. Full access to design templates and customization options for background, border, and text are available, ensuring users can mold the design to fit their brand image. Constant customer support is available to assist with any concerns or inquiries.
Advanced Plan
Aimed at those seeking more comprehensive solutions, the Advanced Plan is offered at $49.95/mo, serving up to 50K Monthly Unique Visitors. Like the previous plans, it includes unlimited impressions and active popups, and the feature of Abandoned Cart Recovery through push notifications. Users gain full design template access with customization options to adjust the background, border, and text, allowing for a more tailored user experience. 24/7 Customer Support is present to resolve any issues or provide needed assistance.
With its user-friendly interface, OneSignal is a feature-rich push notification platform that helps e-commerce professionals and online store owners effectively engage with their audience. This platform offers a wide range of targeting and segmentation options, allowing for precise audience targeting.
Additionally, advanced analytics provide valuable insights into campaign performance and user engagement. Seamless integration with popular CMS platforms like WordPress makes it easy to implement push notifications. OneSignal also offers a limited free plan with generous functionality and subscriber limits, making it a great choice for marketers looking to enhance their web push notifications strategy.
Pricing
Free: Solid Beginnings for Small Enterprises – $0/Month
Unfold access to a comprehensive range of channels within message limits, paving the way for enhanced business capabilities. Your journey begins with complimentary access to basic yet essential features. Experience fundamental personalization and infinite API dispatches with intelligent delivery systems. Utilize state-of-the-art A/B testing features while maintaining full compliance with GDPR standards, ensuring your business operates within established frameworks while exploring new possibilities.
Growth: Essential Packages for Budding Startups – From $9/Month
Manage additional costs per channel and simplify the calculation of your monthly expenses. Benefit from all the features offered in the Free tier, and discover more tools to enhance your reach and efficiency. With this tier, you gain access to advanced personalization and innovative in-app messaging, helping to streamline communication. The package assures controlled, uninterrupted message flows and guaranteed delivery, maintaining alignment with GDPR and DPA standards, enhancing reliability, and building trust.
Professional: Catalysts for Conversion Amplification – From $99/Month
Navigate through extra charges per channel; effortlessly assessing your monthly financial commitments. Dive deeper into the extensive feature set from the Growth tier, with additional tools designed to elevate your business strategies. Embrace superior personalization and valuable insights into customer journeys, enhancing your understanding and enabling more targeted approaches. Explore customizable data export options and tailored outcome analysis, supported by 24/7 priority email support, ensuring continuous assistance and insight.
Enterprise: Supreme Assistance and Oversight for Progressive Ventures – Custom Pricing
Craft your specialized contract and unlock exclusive features with the advantage of volume-based discounts, fully experiencing all the amenities found in the Professional tier, plus unique and exclusive enhancements. This level provides exclusive access to refined personalization techniques and profound insights into customer journeys, ensuring optimal engagement strategies. Benefit from customizable contracts, SLAs & DPAs, and receive specialized onboarding support available around the clock, equipping your enterprise with advanced permission configurations and the support to manage them efficiently.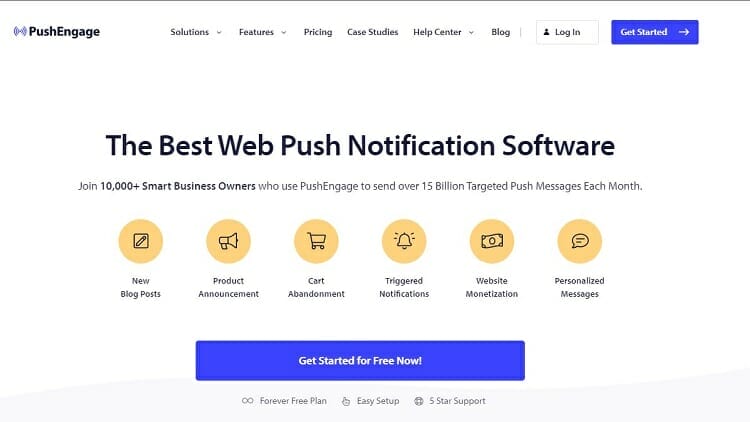 PushEngage stands out as a leading platform in the realm of web and mobile push notifications, enabling businesses to connect with their audiences seamlessly through timely notifications on desktop and mobile platforms.
With over 10,000 satisfied clients, it offers features tailored to augment user engagement, drive sales, and elevate conversion rates, proving particularly beneficial for content websites through its adept segmentation and tailored push messages. Moreover, its WordPress plugin is instrumental in augmenting subscriber counts, and by extension, sales.
Pricing
Free Package: Dive into PushEngage for $0/month
For those exploring the capabilities of PushEngage, the Free package serves as an excellent introduction, allowing access to one site, 30 campaigns, and up to 200 subscribers. It offers standard notifications, smart opt-in reminders, and targeted opt-in triggers, all while ensuring GDPR compliance. This package also provides monetization opt-in and limited support to kickstart your experience.
Business Package: Advance Your Enterprise for $8/month
For businesses aiming to boost their traffic and sales, the Business package, initially priced at $14, offers a saving of $75 and is the ideal choice. It includes everything from the Free package, alongside unlimited campaigns for up to 50,000 subscribers, and features like enriched notifications, a welcome drip campaign, scheduled notifications, and personalized messages. It also offers utilities for audience grouping, geo-based targeting, URL-based segmentation, and targeted opt-in triggers, coupled with performance analytics and standard email support to monitor progress efficiently.
Premium Package: Reach New Heights for $22/month
Those in pursuit of extensive features to secure significant, swift results will find the Premium package, originally $45, a perfect match, with savings of $268! It extends all the benefits of the Business package to two sites and up to 100,000 subscribers and introduces advanced features such as goal tracking, form abandonment campaigns, advanced personalization, and TimeZone sending. The inclusion of smart A/B testing, advanced analytics, opt-in conversion metrics, account management, and two sub-accounts, supplemented with priority email and chat support, ensures a frictionless experience.
Growth Package: Ignite Your Campaigns for $34/month
For those poised to deploy personalized campaigns and recover lost sales, the Growth package, starting at $75, allows for savings of $498 and is the all-encompassing solution. It broadens everything in the Premium package to three sites and up to 250,000 subscribers. The inclusion of automation features ensures the right push notifications are sent at the right time based on visitor behavior. Additional features like smart cart abandonment, back-in-stock alerts, price drop alerts, and personalized smart tags, along with enhanced account management, advanced user access, VIP support, email support, live chat, 1:1 walkthrough, and onboarding support, ensure a smooth and efficient journey in setting up your initial campaigns.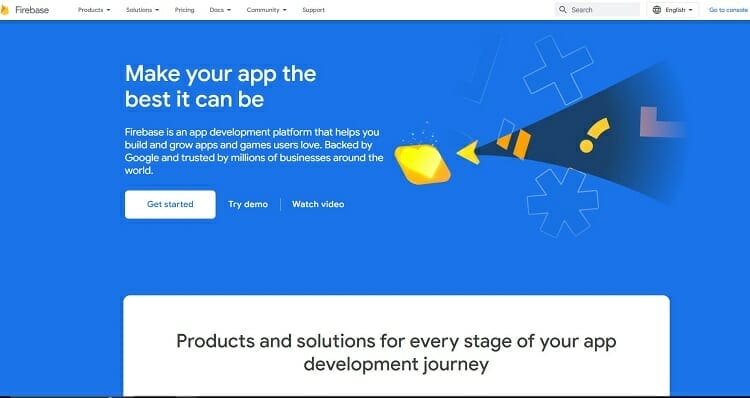 One of the top options in the market is Google Firebase. This robust service is backed by Google's infrastructure, ensuring reliability and scalability. With seamless integration on both Android and iOS mobile apps, Google Firebase offers advanced targeting capabilities based on user behavior and app interactions. Real-time delivery and performance tracking provide actionable insights, while easy setup and configuration make implementation hassle-free. Google Firebase is a powerful tool for marketers to engage with their audience effectively and drive conversions.
Pricing
Firebase graciously introduces a No-Cost Tier, enabling users to explore its myriad of services without any initial financial commitments. This tier allows for the utilization of several products at zero cost, allowing you to acquaint yourself with the platform's capabilities.
Adopting a Pay-as-You-Go model, Firebase ensures you're billed solely for the resources and services you consume, providing a scalable solution that evolves alongside your project's expansion.
Firebase seamlessly blends Free and Paid Services, such as the Realtime Database, which is priced at $5/GB/month for both storage and data transfers, while still retaining components within the no-cost tier.
Certain Firebase products maintain their availability Free of Charge, irrespective of usage volume, enabling uninterrupted access to essential services without the concern of accruing additional fees.
Airship is a comprehensive push notification platform that offers advanced features to enhance your web push notifications. With Airship, you can create customized and engaging messages through its personalization options. The platform also provides extensive targeting and segmentation options, allowing you to precisely target your desired audience. Additionally, Airship offers real-time automation and scheduling, ensuring that your notifications are timely and relevant. You can also track the success of your campaigns through robust analytics and reporting. Airship is a valuable tool for marketers and advertisers looking to maximize the impact of their push notifications. Developers integrating Airship's SDK can manage notifications and analyze user interaction, utilizing insights to refine engagement strategies.
Pricing
Investment Structure of Airship
A meticulously designed pricing structure is offered, encompassing every requisite for superior mobile app experiences. This sophisticated pricing model is delineated into three distinctive dimensions: the App Experience Platform (AXP), the Mobile Data Hub, and assorted Success Packages, all devised to bestow brands with the pinnacle of Mobile App Experiences (MAX).
AXP Enterprise: Commencing at $25k/Year
An initiation into exquisite app experiences is available from $25,000 annually. This tier includes the Mobile Data Hub, Customer Journey Optimization, and Success Packages, amalgamating potent and profound mobile expertise. The AXP Enterprise tier is conceived for entities aspiring to advanced, seamless mobile experiences, presenting a symphonic blend of innovation, insightful data, and refined optimization approaches.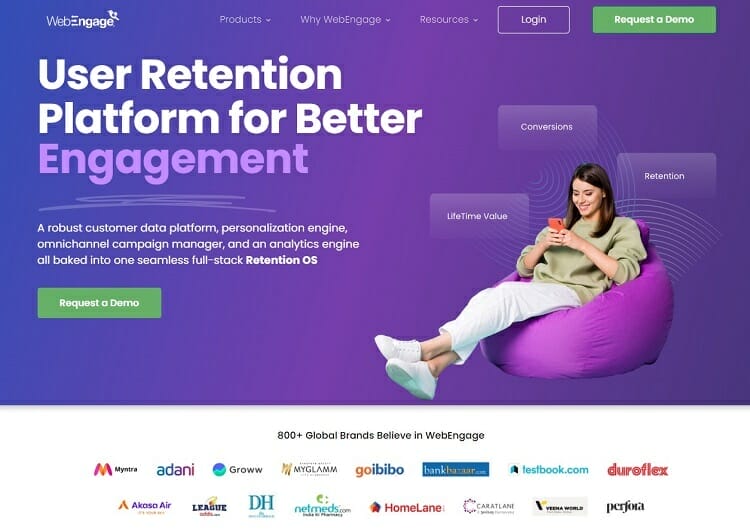 WebEngage stands as an integrated customer engagement platform, offering a suite of tools and solutions that enable businesses to enhance customer retention and engagement seamlessly. It integrates various features like a Customer Data Platform (CDP), Omnichannel Campaign Manager, and a Web and app Personalization Engine, aiding brands in optimizing revenue through improved interactions with existing customers.
The platform facilitates the creation of highly personalized and engaging customer experiences across diverse digital channels such as email, SMS, and push notifications, emphasizing the necessity of the human touch in marketing communications to make user engagement more authentic and conversational.
Additionally, with advanced website personalization capabilities, WebEngage allows businesses to meticulously tailor their web content to meet the unique needs and desires of individual users, significantly enriching a brand's overall customer engagement strategy and fostering more meaningful user interactions.
Ease of use is also a platform hallmark, with WebEngage offering no-code notification and in-app messaging creation through a drag-and-drop editor as well as a wide array of templates and custom themes.
Pricing
Solo: Ideal for Small Scale – $199/Month
Catering to businesses with up to 10k Monthly Active Users, the Solo plan provides basic segmentation and analytics, email support, and engagement across all channels among other features, billed annually.
Band: Tailored for Growing Organizations – $899/Month
Building on the Solo plan, the Band option is ideal for organizations with up to 50k Monthly Active Users, offering additional features like funnels, cohorts, and the ability to download reports.
Choir: Designed for Enterprises – $1499/Month
Expanding on the Band's features, the Choir plan caters to enterprises having up to 100k Monthly Active Users, providing advanced analytics and a total of 20 active journeys.
Orchestra: Custom Solutions for Larger Needs
For businesses surpassing 100k Monthly Active Users, Orchestra provides a custom solution, inclusive of all Choir features plus uninstall analytics and custom reports among others.
Experience WebEngage with a Free Trial
To determine if WebEngage aligns with your needs, a 14-day free trial is available. After selecting a preferred pricing plan and completing a sign-up form with basic details, the trial is readily accessible, giving a comprehensive insight into the software's capabilities.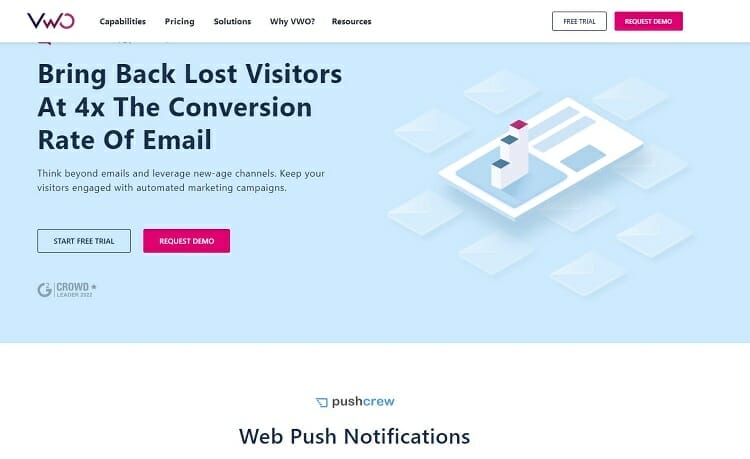 VWO Engage, previously recognized as PushCrew, serves as a robust web push notification service, empowering businesses to interact effectively with their website visitors. This service enables the dispatch of personalized messages to subscribers through web push notifications, allowing the engagement of visitors and customers and aiding them along their purchasing journey with customized communications.
VWO Engage implements a subscription-based billing system, with fees contingent on the number of notification subscribers. For businesses aiming to reinvigorate their website audience and convey pertinent, timely information, this platform emerges as an invaluable asset.
Pricing
Growth Plan:
Priced at $99 per month, the Growth Plan encompasses features enabling engagement with website visitors through personalized web push notifications. However, prospective users should acknowledge the possibility of price alterations in the future.
Custom Plans:
Beyond the standard offering, VWO Engage extends the availability of tailored pricing plans to meet unique needs. For intricate pricing details and to converse about individual requirements, reaching out directly to Wingify, the parent company of VWO Engage, is advised.
IZooto, an innovative audience marketing platform, empowers publishers and businesses to enhance audience engagement and retention through the use of web push notifications and app push notifications. It specializes in transforming visitors from various channels such as Google News and Facebook into subscribers, enabling businesses to re-engage with their audience effectively.
The platform stands out with its emphasis on personalization and automation of push notifications, ensuring the delivery of messages aligns with audience interests and preferences. iZooto's advanced features allow for targeted messaging based on factors like location and interests, which is crucial for conveying breaking news and headlines to distinct audience segments.
Serving as an extensive user engagement and retention tool, it leverages notifications to stimulate repeat traffic, generate leads, and escalate sales, with cross-device compatibility ensuring reach across various devices and browsers.
Pricing
Rise Plan
The Rise plan costs $85/month and is optimal for bloggers seeking efficient targeting and automation, allowing management of up to three websites and catering to 30,000 subscribers. The features include unlimited notifications, device, subscription, and geo-based targeting, campaign scheduling, and a specialized Welcome Your Subscribers Playbook. Support is provided via email. Users can start with a free trial.
Monetize Plan
The Monetize plan is free for life and is especially beneficial for newsrooms and bloggers looking to generate repeat traffic and revenue. This popular choice enables the management of up to 10 websites and allows for 10 campaigns per day, with no limit on subscriber count. The provided features are similar to the Rise plan, including push notification APIs and devices, subscription, geo-based targeting, and campaign scheduling.
Grow Plan
For publishers preferring to run everything on autopilot, the Grow plan at $250/month is ideal, accommodating up to 30,000 subscribers. This plan includes all features from the Rise plan and additional advanced options like user property-based targeting with up to 32 properties, recurring campaigns, integration with RSS feed, and playbooks to recover abandoned tabs and video drop-offs. It also offers the option to opt in to monetize with ads and provides chat support.
WonderPush stands out as a multifaceted platform, delivering specialized push notification services across web, iOS, and Android platforms. It allows businesses and developers to transmit timely messages directly to user devices, serving as a powerful tool to amplify user engagement, promote products, and relay crucial updates.
Beyond push notifications, it supports in-app messaging, and displaying messages over mobile apps, a feature pivotal for developers and marketers aiming to elevate user interaction. WonderPush ensures broad reach with its compatibility across various platforms and adheres to GDPR standards, prioritizing user privacy and data protection in every notification sent.
With pricing beginning at €1 per month, it provides a range of features including rich notification formats, real-time analytics, automation, and seamless API integration, making it a comprehensive and affordable solution for diverse notification needs.
Pricing
Offering full-featured and GDPR-compliant push notifications, WonderPush provides an extensive array of services starting at €1 per month, with an additional €1 charged for every subsequent 1000 subscribers. The pricing structure is tiered, with costs rising proportionately with the increase in subscriber count. Users can experience the services with a 14-day free trial, with no credit card requirement.
SendPulse serves as an integrated marketing automation platform, offering a diverse array of tools for businesses aiming to optimize audience engagement. It is distinguished for specializing in email, SMS, and chatbot marketing, and it extends features such as crafting landing pages and deploying web push notifications.
Functioning as a cloud-based solution, SendPulse enables users to orchestrate email campaigns, text messaging, and push notifications from a singular platform, enhancing convenience and efficiency. It stands out with its multi-channel marketing capabilities, allowing businesses to dispatch email and SMS campaigns and interact with customers through chatbots across various platforms like Telegram, Facebook Messenger, WhatsApp, and Instagram.
The platform streamlines the creation of user-friendly, mobile-responsive emails with a simplistic editor and pre-designed templates. To further aid businesses in refining their marketing approaches, SendPulse provides options for automated triggered emails, scheduled SMS, and web push notifications, ensuring a seamless and advanced marketing experience.
Pricing
Free Plan
The Free plan is perfect for individuals just starting with email marketing, offering core features to accommodate up to 500 subscribers. It allows the sending of up to 15,000 emails per month and provides 100 MB of image storage. Users can have three sender email addresses, and one domain, and can create one landing page. The functionalities include five flows, one event in A360, and 100 verifications with the email verifier, making it ideal for beginners.
Standard Plan
The Standard Plan, recommended for growing businesses, offers a broader suite of tools, starting at $6.40 per month for up to 500 subscribers, amounting to $76.80 per year with a saving of $19.20. It provides unlimited emails, and 200 MB of image storage, and accommodates five saved segments, 100 sender email addresses, and three domains. Enhanced features include ten flows, ten events in A360, three landing pages, and a full A/B testing suite, allowing up to three users per account.
Pro Plan
For email marketing professionals, the Pro Plan gives full access to all features starting at $7.68 per month for up to 500 subscribers, with an annual price of $92.16, offering a saving of $23.04. Users can send unlimited emails, use 500 MB of image storage, and avail of unlimited segments. It includes advanced features like 300 sender email addresses, five domains, 50 flows, 50 events in A360, ten landing pages, and 1,000 verifications with the email verifier. The plan supports up to ten users per account and an unlimited number of tags.
Enterprise Plan
Targeted at large companies seeking advanced features, the Enterprise Plan starts at $10.75 per month for up to 500 subscribers, totaling to $129.02 per year, saving $32.26. It offers unlimited emails, 500 MB of image storage, and advanced segmentation options, with 300 sender email addresses and unlimited domains. It allows an unlimited number of flows, events in A360, landing pages, users, and tags. The number of verifications depends on the email verifier plan size, and a full A/B testing suite is included.
What Are the Criteria to Evaluate the Best Push Notification Services?
In evaluating push notification services, user experience and interface are pivotal; they dictate the ease of creating and managing impactful campaigns. It's essential for businesses to attentively consider varying pricing and features among services, aligning choices with budgets and needs.
Advanced features like targeting and automation are crucial, enabling the delivery of personalized, timely messages and enhancing campaign effectiveness. The ability to integrate with platforms like WordPress and WooCommerce is also vital, simplifying implementation processes. Moreover, the presence of analytics is crucial to assess the impact of push notifications on sales.
User Experience and Interface
When it comes to web push notifications, user experience and interface play a crucial role in their effectiveness and user adoption. An easy-to-use and set-up push notification service can make a significant difference in the success of your campaigns. Having a visually appealing and intuitive interface makes it easier for businesses to create and manage their push notifications.
Customization options, such as branding, colors, and notification templates, allow you to create a consistent and engaging user experience. Real-time preview functionality enables you to review and test your push notifications before sending them out. Integrating your push notification service with other marketing tools like email or SMS can provide a seamless and integrated user experience.
Pricing and Packages
Considering the pricing structure and available packages when evaluating push notification services is crucial for businesses. Some services offer free plans with limited features or subscriber limits, making them suitable for small businesses or those with lower budgets. However, paid plans often provide additional features like advanced segmentation options, unlimited notifications, or advanced analytics.
Businesses need to assess their specific needs and growth potential to select a push notification service that offers scalability and value for money. Free trial options allow businesses to test the functionality and effectiveness of a service before committing to a paid plan.
Integration Ease and Support
Integration ease and support are crucial factors to consider when selecting the best push notification service. The top services in 2023 provide easy integration and seamless support for smooth implementation.
They offer extensive documentation and resources, making it easy for businesses to integrate their platform with web push notifications. Additionally, these services have robust developer support and assistance available, ensuring any integration issues are addressed promptly.
With flexible integration options to suit different platforms and systems, businesses can easily incorporate web push notifications into their existing infrastructure. Plus, quick and efficient customer support is provided for any technical queries or concerns.
Conclusion
Push notifications are a powerful tool to boost sales and drive customer engagement in the competitive e-commerce landscape. By choosing the right push notification service, you can effectively reach your target audience, increase website traffic, and retain customers. Among the top push notification services in 2023, OneSignal, PushEngage, Google Firebase, Airship, WebEngage, VWO Engage, iZooto, WonderPush, SendPulse, and Popify have proven to be reliable and effective.
When evaluating these services, consider factors such as user experience, pricing, integration ease, and support. It's crucial to select a service that aligns with your business goals and provides the most effective push notifications for optimal sales results. If you have any questions or insights about push notifications or the mentioned services, please feel free to comment below.