Shopify offers a range of themes that prioritize speed, so businesses can create websites that load quickly and give their customers the best possible experience. These themes are optimized to minimize page loading times and ensure customers can easily access the content. With Shopify, businesses can rest assured that their website will load
quickly and efficiently.
Here, we review the ten best Shopify themes for fast loading and great design.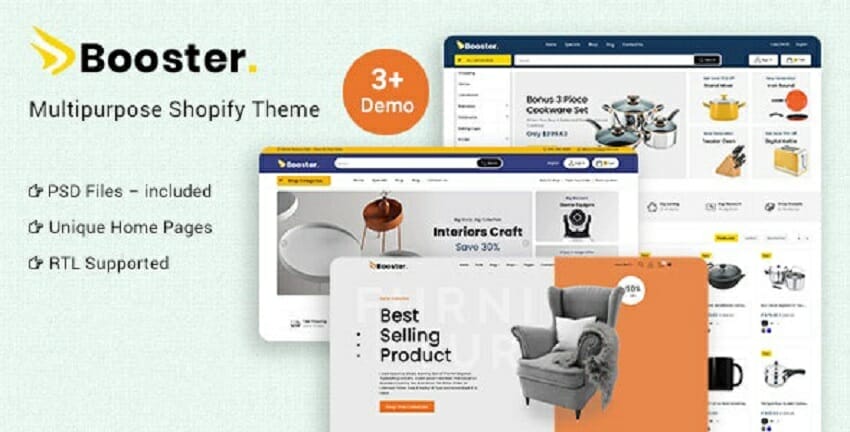 Booster is a zero-dependency theme that prides itself on being the fastest Shopify theme. Created from scratch by the True Scalable team, Booster has been tested and achieved the highest PageSpeed results of all compared themes. With its exceptional speed capabilities, Booster is an ideal choice for businesses looking to expand their reach.
Utilizing automatic image optimization ensures visuals retain quality while drastically reducing file size. Additionally, modular JavaScript components can be selectively loaded to reduce bloat, and in some cases, this technology is not needed due to CSS
implementations. These measures can significantly speed up website performance.
Booster is a unique theme for medium-sized shops looking to provide customers with a premium shopping experience enhanced with excellent speeds.
Booster Theme 6.0 has achieved a monumental milestone, becoming the first theme to be fully compatible with Online Store 2.0.
Booster provides users with a multitude of features to maximize sales potentials, such as multitab shopping sync, geo-personalized content, and a lookbook feature for browsing products from images. All of these features are free; however, the theme does require an annual fee of $249 or a one-time fee of $399 for lifetime access.
Quick loading

 

Responsive design

SEO-friendly coding

 

Users can easily customize their experience with a range of options.

  

   \

This platform is designed to be compatible with a range of popular plugins and extensions, allowing users to maximize their experience.

An intuitive dashboard and control panel has been released to make user navigation easier.
Out of the Sandbox's Turbo Shopify theme is one of the top options for Shopify stores looking to optimize their page speed. With its unparalleled performance, this theme is ideal for stores of any size, whether you have a large or small inventory. Turbo has been
designed to offer the best possible design for your store, allowing you to take
advantage of its impressive speed performance. This theme is an excellent choice for any Shopify store, offering an easy and efficient way to get your store up and running quickly.
The Turbo Shopify theme is designed with speed and efficiency in mind, boasting two unique features that help to make Shopify sites faster to load and navigate. The super-fast loading speed ensures that customers don't have to wait too long for pages to load. In contrast, the caching functionality ensures visitors can quickly access the content they need without reloading the page. With these features, the Turbo Shopify theme allows users to create a more satisfying experience and encourages potential customers to visit and explore your site. Turbo 7.0 is fully compatible with Online Store 2.0.
Turbo, one of the fastest Shopify themes on the market, continues to be a leader in its field. With the addition of Sport and Ludicrous Speed Modes, Turbo has set itself apart from other themes. These modes allow users to increase the speed and performance of
their website, giving them a competitive edge. The theme costs $180 annually or
$360 for lifetime access, ensuring you get the most out of your investment.
Fast loading speed

      

Minified HTML

Optimized images are 

designed to be responsive, adapting to any screen size.

Mega menus

Interactive mini cart

Shopify has recently released

 customizable page templates and layouts, providing businesses with 

faster page loading.

Organizations can 

quickly and effectively configure navigation settings with a versatile 

approach.

Multiple video 

platforms are compatible with popular services such as YouTube and Vimeo.

Predictive (life) 

search

Custom contact form
Shopify has recently rolled out Product Media, a feature that allows merchants to showcase their products in a visually engaging way. The platform has been well-received by online businesses of all sizes, with many praising its potential to grow consumer engagement. Product Media is set to become a crucial part of Shopify's offerings as merchants take advantage of its features for further success.

Created by renowned conversion rate expert Bradley Long, the Shoptimized theme was designed with one primary goal: maximizing sales potential for its users. Its commitment to rapid page loading speed – as demonstrated by its excellent performance on PageSpeed tests– ensures an optimal user experience and provides customers with a convenient and enjoyable shopping journey.
Third-party applications such as banners, popups, and badges can compromise page loading speed. Shoptimized is an innovative theme that eliminates this issue; it offers nearly 30 conversion-boosting features, optimally designed layouts and coupons, and
product filters. Furthermore, all components are tailored to the theme,
providing users access to these functionalities without significantly impairing
loading speed. Therefore, this theme is a high-speed option.
Shoptimize is available for $ 167 per store, with additional plans offering multiple store licenses and access to exclusive store optimization courses. Shopify's Online Store 2.0 is fully supported by the theme.
Automated shopping 

cart abandonment reminders

Quick view product 

pages

Live chat support 

for customers 

Dynamic pricing 

& discounts

Social media 

Integration & sharing widgets

Product 

recommendations & cross-sells

Mobile optimization 

& responsive design

A/B testing & 

conversion rate optimization

Enhanced search 

engine optimization (SEO)

Comprehensive site 

reporting & analytics

Secure checkout 

& payment processing

Advanced shipping 

options
Designed by Out of the Sandbox, Flex is a Shopify theme that allows users flexibility when customizing themes. Boasting several features that make managing online stores easier and faster than ever, the Demo Shop Import feature will enable users to get started quickly. Flex offers various top-notch features, allowing users to make the
most of their shop.
Flex is available for $187 per store, with additional plans offering multiple store licenses and access to exclusive store optimization courses.
Flex version 3.0.0 has been announced to be compatible with Online Store 2.0, providing users with improved performance and usability.

With multiple layout options available, users can customize their theme to best suit the content of their website, providing the opportunity to be creative.

It is now possible 

to add Cascading Style Sheets (CSS) directly to sections of a website using the 

theme editor.

By incorporating 

various design elements, sections can be given a more compelling look and feel.

Flex allows users to add visuals to their website or online platform using icons and elements. These visuals can include an announcement bar, featured promotions, texts, and columns, allowing for a more dynamic and engaging experience.
Plak is a fast, lightweight Shopify theme tailored to suit the needs of any online store. With an array of customization features, SEO optimization tools, and high PageSpeed test scores, Plak is an ideal choice for those looking to take their store to the next level. Plak is fully compatible with OS 2.0 and is designed to help you achieve higher search engine rankings and increase customer engagement. With its easy-to-use interface and robust features, Plak is the perfect choice for shop owners looking to maximize their store's potential.
Plak is revolutionizing the way Shopify stores can be designed with its collection of fast-loading themes. Boasting lazy-loading parallax sections and dynamic effects, Plak's themes can significantly improve the user experience and performance of any website. Furthermore, the basic version of the theme requires only seconds to load, offering an impressive start to any Shopify store design. With these features and more, Plak has set the bar for fast and efficient Shopify themes.
The fastest themes available for $295 for one license are a great starting point for businesses looking to create an online store with Shopify. These themes offer a high level of performance and customization options so companies can create the perfect store for their needs. While not the cheapest choice, these themes provide
an excellent foundation for building a severe Shopify store.
Responsive design

Customizable layouts

SEO-friendly code

Multiple page templates

Multiple headers and

footer variations

Advanced typography

and color options

Slider support and

carousel integration

Social media

integration

Visual page builder 

and shortcodes

Contact form support
Shella is a multipurpose Shopify theme builder designed to provide businesses with a fast, fresh, and dynamic website experience. This Shopify theme builder offers a wide range of features, including an easy-to-use drag & drop editor, advanced customization
options, and a solid price. With Shella, businesses can quickly create a professional and stylish website to showcase their products and services.
In addition, Shella provides custom coding options for individuals with more specialized web design insight. Its incredibly fast loading times enable customers to traverse the site swiftly and conveniently. For businesses looking for an economical and reliable website
solution, Shella is an ideal answer.
The Shella e-commerce theme is a top-rated platform for businesses in many industries, from fashion to cosmetics. With its modern and minimalistic designs, Shella offers flexibility and compatibility with six languages, as well as a variety of features designed
to optimize websites and help increase sales. This versatile platform is ideal for online stores selling shoes, accessories, cosmetics, clothes, and more. It also supports OS 2.0.
Builder section for 

homepage and mega menu

Quick view and wishlist

 

Dynamic checkout 

buttons, headers, and footers

SEO-optimized 

Mobile-optimized

Unique layouts and 

product display

AJAX shop, AJAX 

search

Size guide popup and 

page

Popups for 

newsletters, cookies, promo, and purchase notification

Option for 

subscription

Custom product tabs

Full-screen sliders 

and video players to showcase your products
Debut, a Shopify theme
well-known and appreciated by many, offers users a dependable foundation to
customize their online stores. Additionally, many speed optimization features
are included by default, providing an impressivePageSpeed score. Although its
design may not win awards, Debut is a reliable choice when creating an
eCommerce website.
The Debut theme, crafted and maintained by Shopify, is optimized for stellar speed performance. CSS and JS files are minified, lazy loading is enabled, and efficient CSS ensures optimal
performance. On the SEO front, Debut often outperforms other themes; when
optimizing your store for loading speed, a reliable option can be the best
decision.
Debut is a trendy Shopify theme, and it's no wonder why. Not only is it one of the best-looking themes available, but it's also the fastest-loading theme on Shopify. It's also free,
and with its simple customization options, you can quickly and easily customize
it to fit whatever look and feel you want. Whether you're a beginner or an
experienced Shopify user, Debut is a great choice when setting up your store
quickly and easily. Unfortunately, it is not supported by OS 2.0
Welcome page

Introductory video

Call-to-action 

buttons

User profiles

Live chat feature

Sign-up forms

Newsletter 

subscription options

Customizable content 

sections

Responsive design

Social media 

integration
Brooklyn is one of the fastest Shopify themes available for free to all Shopify users. It is optimized for apparel stores and has a PageSpeed score faster than most other Shopify themes.
Even without a perfect score from PageSpeed, customers have reported that they
have experienced no issues when using this theme. With its focus on fast
fashion, Brooklyn is the ideal theme for anyone looking to make their Shopify
store as fast as possible.
All homebrew Shopify themes feature minified CSS and JS, lazy loading images, and efficient CSS as standard. Thanks to Shopify's maintenance of the themes, optimization issues are unlikely to arise, ensuring your site remains fast and reliable for years
to come.
Brooklyn theme is an excellent choice for clothing stores due to its emphasis on brand imagery and dynamic product grid. The slide-out cart makes checkout a breeze for customers without any cost associated with the theme. Additionally, its speed will satisfy users. Brooklyn is free to use and an invaluable tool for online retailers and is not
compatible with Online Store 2.0.
Responsive and 

Retina-Ready Design

SEO Optimized & 

Schema.org Compatible

Parallax scrolling 

effects

Customizable header 

& footer layouts

Multiple color schemes

 & fonts to choose from 

Multiple blog 

layouts & post formats

Built-in slider 

functionality

The comprehensive 

theme options panel

Built-in mega menus

Advanced typography 

options

Shopify support
Woodstock is a revolutionary retail theme designed to enhance the user experience of fashion brands, electronic retailers, toy stores, and utilities. The app consists of four theme types explicitly tailored to achieve a modern look and feel that will help
foster trust with potential customers. Its flexibility allows any website to
benefit from its powerful features.
Woodstock is designed to provide users with a quick and easy way to create an online store. These themes come with various features, including a powerful converter that can be adjusted based on the user's location. This eliminates the need for an additional app,
saving the user time and money. Additionally, the themes allow users to sell their products globally, providing them with a wide array of potential
customers.
Woodstock is a theme for creating custom web pages and offers a range of features to make the website design more accessible. It features a drag-and-drop design, several page templates, and a mega menu builder that helps users efficiently navigate their website. Additionally, it offers five header types, allowing for more design versatility. Woodstock is available to purchase for a one-time fee of $59 with a regular license. the is fully compatible with Online Store 2.0.
The Loft Shopify theme offers a speedy and versatile way to create a stunning website for your business. With a
sleek grid-style design, you can customize the look of your site to fit your
brand perfectly. The loft also provides an array of pre-made elements that you
can use to instantly create beautiful and highly convertible landing pages,
product pages, and more. Thanks to its lightning-fast loading times and
intuitive design, you can quickly have the perfect website ready.
By creating a narrative around your product and brand, consumers will be better informed to make a purchase decision on your online store. This storytelling can be done directly on your website or through customer lists, enabling you to connect with customers engagingly and intellectually.
The theme contains a feature that helps you to create a multi-layered menu on the website. It also eliminates the risk of consumers leaving your store when the items they are searching for are not found. With all the features included in this theme, you have every chance of having a fast, good-ranking website. You can increase the viewership and increase traffic with a higher rating.  It also supports OS 2.0.
What is Shopify Online Store 2.0?
Shopify has released its Online Store 2.0 framework,
featuring a new editing experience for merchants. This section-based editor
comprehensively allows users to create storefronts from the ground up. With a
similar look and feel to WordPress's native customizer, those familiar with the platform may have an easier time adjusting to the new framework.
The drag-and-drop functionality of the blocks has been improved, allowing for easier customization. When a block or section is selected, options are now presented in the right panel instead of being nested under the main selector. This new organization of the panels makes customizing simpler and quicker.
Key Benefits of Online Store 2.0
The user experience of the system has drastically improved, offering an enhanced user interface and functionality for increased

 efficiency and time-saving capabilities.

Retailers now have the opportunity to create a 

customized online experience for their customers with custom sections, 

providing an enhanced level of personalization and potentially increasing 

sales.

Businesses now have the ability to more 

seamlessly tailor their branding to fit the needs of each separate store 

location with the latest technology advancements. This enhanced scaling of 

branded content provides companies with the opportunity to optimize their 

product marketing strategies and create a unified brand identity across all 

store locations.


Organizations now have the capability to 

conveniently upload and modify content due to the advancement of meta-field 

functionality.

Recent optimizations to the website have 

resulted in decreased loading times, leading to a decrease in visitor 

abandonment.

Users with a paid plan and compatible themes are eligible
for the latest version of the Online Store.
These themes are all optimized for the online store experience and come with powerful features to help you create an engaging shopping experience. With these themes, you can customize your store's look and feel to match your brand while also taking advantage of Shopify's robust features. Each theme offers a unique aesthetic and tools to help you customize the store to your needs. Whether you're starting a new business or looking to upgrade your existing store, these themes offer a great foundation for success.
Conclusion
Finding a fast-loading Shopify theme is essential for any e-commerce business. A slow-loading website can lead to lost customers and decreased sales. Our list of the best Shopify themes is all designed with speed in mind, so you can be confident that your site will load quickly.