Do you recall when launching a retail business required stockpiling inventory? Well, the tides have turned. Welcome to dropshipping; the game-changing business model is revolutionizing the e-commerce landscape.
Imagine this: you're at the helm of a vibrant online store offering many products, yet not one resides in a physical warehouse. Seems too good to be true? That's the allure of dropshipping. It provides an exciting opportunity to immerse yourself in e-commerce, minus the shadow of unsold stock.
Your products determine your success and how effectively you present them to your customers. This is where the selection of your Shopify theme takes center stage. The theme you opt for isn't just a matter of aesthetics; it's the backbone of your customer's shopping experience. A well-crafted, captivating theme can transform a fleeting visitor into a steadfast customer.
Alright, it's time to explore Shopify themes together. You're not just looking for ones that offer a visually appealing storefront. You're searching for themes that enhance your business operations and are pivotal in sculpting your dropshipping success story. They're more than just aesthetic enhancements – they are the fundamental components of your recipe for dropshipping success.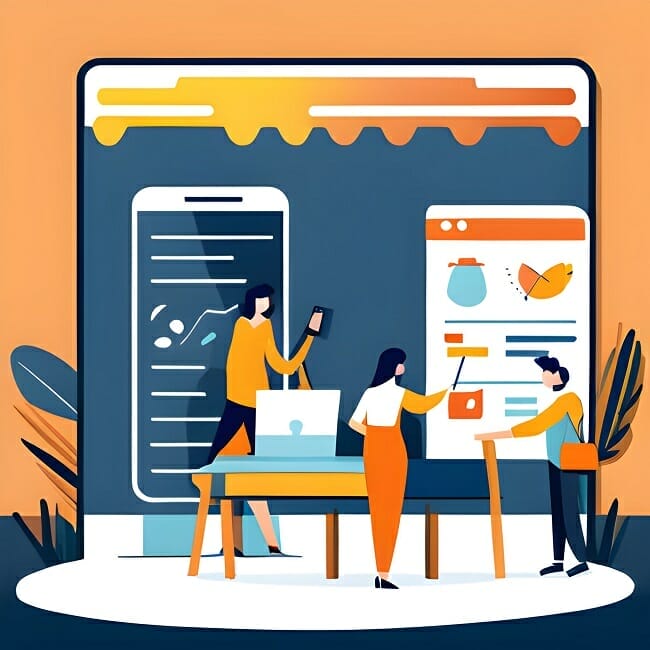 Why Shopify for Dropshipping?
As an entrepreneur taking your first steps in the e-commerce world or an established business owner looking for an upgrade, you might wonder why to choose Shopify for dropshipping.
Let's check the important factors:
Effortless Usability
Primarily, Shopify takes pride in its intuitive nature. Irrespective of your technical background, Shopify's user-friendly platform paves the way for you to establish an online store with mere clicks. Who wants to grapple with a complex interface when the excitement of marketing your products is knocking at the door?
App Ecosystem
Next in line is the comprehensive app ecosystem that Shopify flaunts. Shopify's App Store is a repository of tools meticulously designed to turbocharge your dropshipping business. Apps like Importify act as bridges, linking you directly to suppliers and simplifying the intricacies of product sourcing and inventory management.
Unwavering Customer Support
Moreover, Shopify excels when it comes to offering customer support. The reassurance of round-the-clock access to a dedicated support team can be invaluable when you're neck-deep in running your dropshipping business.
Awe-Inspiring Themes
Shopify presents many professionally crafted themes to materialize the beautiful, functional storefront you envisage for your dropshipping store.
Choosing Shopify for dropshipping is like hiring a reliable, expert team for your e-commerce journey. The idea is to allow the platform to handle most of the work, allowing you to concentrate on your area of expertise: selling products your customers will adore.
Review of the Top 10 Shopify Themes for Dropshipping
Navigating the vast sea of Shopify themes can be daunting, but don't worry; I've got your back. I've compiled a list of the top 10 Shopify pieces that are tailor-made for dropshipping businesses. Each theme has been handpicked considering the factors we discussed earlier – from customization and responsiveness to budget considerations. So, let's dive in!
Masonry is a stellar dropshipping theme hailing from the design labs of Clean Canvas. Masonry's signature appeal lies in its grid design, which elegantly showcases your products on their respective pages, placing them front and center.
Masonry perfectly matches businesses specializing in health and beauty products, sports and recreation, and clothing and accessories. Its design credentials are backed by years of experience, and it arms your business with the tools you need to excel – think SEO tools, advanced product filters, and flexible sections.
With Masonry, customizing your store's look and feel requires no coding skills. With just a few uncomplicated actions, you can creatively showcase your products and make a memorable impact on your audience.
Regarding pricing, Masonry carries a one-time cost of $240 to publish it on your online store. And if you're looking to give it a spin before you commit, you're in luck – Masonry comes with an unlimited free trial. Try it out, and let Masonry's grid design work its magic on your store.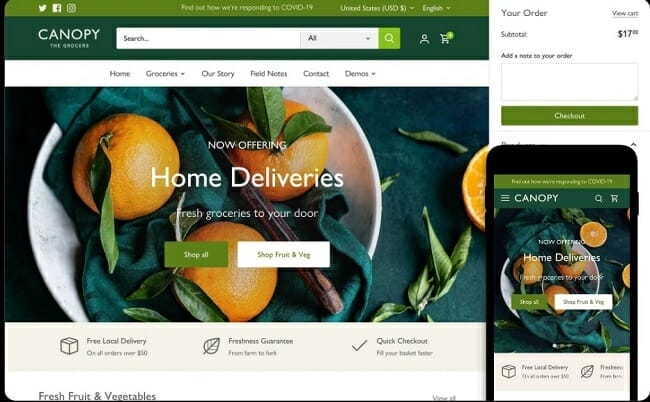 Say hello to Canopy, a reliable workhorse in the Shopify theme stable, crafted by the innovative team at Clean Canvas. This theme has earned its reputation over the past decade, becoming a favorite among e-commerce enthusiasts.
Perfect for dropshipping businesses dealing in home and garden tools, health and beauty gadgets, food, and drinks, Canopy truly shines when showcasing large product catalogs. Its design allows you to display many products and their details simultaneously, making it a powerful tool for your online store.
As a dropshipping store owner, Canopy offers you everything you need to succeed. Its quick load times ensure a smooth user experience, while the easy customization options allow you to tailor the theme to your brand's identity. With additional perks like predictive search and built-in SEO tools, Canopy helps place your products in front of your customers effortlessly.
Regarding pricing, Canopy extends an unlimited free trial, giving you ample time to get a feel for its features. Integrating it into your live website requires a one-time fee of $300. Considering the powerful suite of parts and functionalities Canopy brings to your dropshipping operations, it's a worthwhile investment.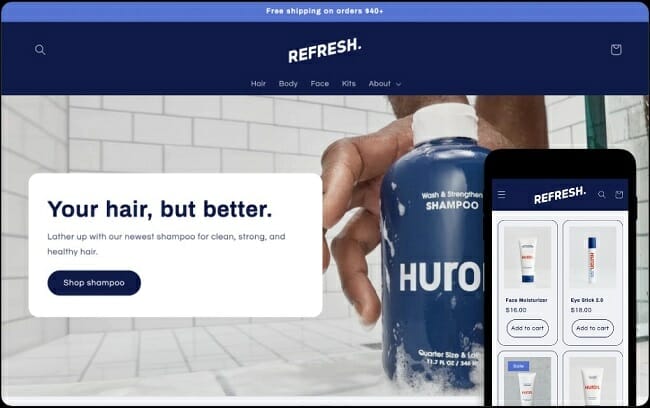 Introducing Refresh is a free theme by Shopify that allows your dropshipping store to make a statement. This theme transforms your storefront into a visual narrative, gracefully weaving your products into a compelling storyline.
The Refresh theme lends a touch of elegance to your online store, drawing attention to your products subtly yet effectively. It's particularly beneficial for dropshipping businesses specializing in health and beauty products with smaller catalogs.
Featuring stunning design options for various content types, from videos and quotes to product displays and images, Refresh adds a creative edge to your online presence. Plus, the theme is customizable with just a few clicks. Using the drag-and-drop editor, you can modify the theme to align with your brand's voice and aesthetic perfectly.
Moreover, Refresh enables you to share comprehensive product details with your customers. From pricing to customer reviews, it provides all the essential information front and center, helping to boost your conversion rate. In the world of dropshipping, Refresh is your ticket to a beautifully designed, practical, and cost-efficient online store.
Enter Warehouse, a theme that genuinely lives up to its name, was designed by the talented folks at Maestro. Ideal for drop shippers specializing in home and garden tools, sports and recreational equipment, and electronics, Warehouse offers a robust platform for your product showcase.
Whether you're aiming to display a handful of product categories or an extensive catalog of over 1,000 products, Warehouse is ready for the challenge. This theme's versatility shines through its customization options, allowing you to present your products in a way that aligns with your brand.
Powered by the latest technology, Warehouse prides itself on its fast response rate. This means your customers enjoy a seamless, fast-loading shopping experience, making their journey from browsing to purchasing an absolute breeze.
As for the pricing, Warehouse operates on a one-time payment model of $320 when you publish the theme on your website. This license is everlasting and includes free updates, but it's worth noting that it's limited to a single website. Still, you can take advantage of its unlimited free trial for as long as you wish, ensuring Warehouse is the perfect fit for your dropshipping store before committing.
Meet Empire, a powerful Shopify theme crafted by Pixel Union, caters primarily to those with various products to sell. If your store brims with an extensive catalog of products, Empire is just the platform you need to display your offerings in all their glory.
Whether your dropshipping business revolves around home and garden tools, business equipment and supplies, or electronics, Empire has you covered. This theme allows you to display a broad range of product photos simultaneously, capturing the essence of your product line-up in one glance.
The key to Empire's success lies in its unique design, which prioritizes user-friendliness. By creating an inviting and satisfying shopping experience, Empire can help drive your conversion rate upward.
Empire offers customization options that let you narrate your brand story in a way that resonates with your business voice. It's not just about selling products; it's about creating a bond with your customers through shared narratives.
In terms of pricing, Empire operates on a one-time payment of $300 when you publish the theme on your website. However, it does provide an unlimited free trial to ensure it's the right fit for your store. With free updates thrown into the mix, Empire emerges as a solid investment for your dropshipping business.
Introducing District, a Shopify theme by Style Hatch, Inc., designed to spotlight your featured products and collections. If your store boasts an extensive catalog, particularly within the realms of clothing and accessories, sports and recreation equipment, or health and beauty products, District might be your perfect match.
The District is about creating an unforgettable visual experience for your customers. It invites you to narrate stories with your product images, placing them in meticulously designed blocks and layouts that enhance their appeal.
Customizing the District theme is a walk in the park, even for those with zero coding skills. Use the drag-and-drop editor to tweak the composition according to your brand's style and personality.
Regarding pricing, you can enjoy the demo version for as long as you like without spending a dime. When you're ready to publish the District theme on your website, it comes with a one-time fee of $220. Please note the license is valid for a single website. If you're aiming for a striking product showcase, District could be your go-to theme.
Say hello to Startup, a Shopify theme developed by Pixel Union, tailored to serve businesses aiming to sell directly to product consumers. If you run a store with a smaller catalog, Startup could be the theme you've been looking for.
At the heart of Startup's design is a focus on making your product images the star of the show. The well-structured layout ensures that your products remain the center of attraction, thus enriching the overall shopping experience of your dropshipping store.
With Startup, there are no boundaries. You can sell your products anywhere globally, and there are no limitations to what you can sell.
Startup is quick and straightforward, and the customization options are extensive. The theme's design allows for the inclusion of customer reviews around your products. Since positive reviews are a well-documented sales driver, this feature can be crucial to your store's success.
Startup can be yours for a one-time payment of $240 upon publishing on your store website. This payment grants you a license to use the theme on a single online store. For those focused on direct-to-consumer sales with a small but mighty product range, Startup could be your secret weapon.
Welcome, Dawn, the ideal theme for those seeking a minimalist aesthetic for their Shopify dropshipping store. Dawn provides a free, clean and uncluttered stage for your products to shine.
Dawn's layout encourages high-quality product images on your homepage, instantly capturing visitors' attention. Moreover, it gracefully handles catalogs of any size, making it a versatile choice for various businesses.
Thanks to Shopify's intuitive drag-and-drop design editor, Dawn is a breeze to customize. You can easily adjust colors, fonts, layouts, and more to reflect your brand's unique personality. One of the standout features of Dawn is its ability to highlight your store policies. Instead of hiding them in a corner, you can proudly display them, promoting transparency and trust with your customers.
In a world where less is often more, Dawn stands as a testament to the power of minimalist design in the competitive landscape of dropshipping.
Welcome to Expanse, a powerhouse dropshipping theme brought to life by Archetype Themes. Expanse is perfect for businesses managing extensive inventories, particularly for stores selling skincare products.
But don't think that Expanse is just for drop shippers. Both online and physical store owners can leverage Expanse's unique design and tools to craft a fantastic website. With an arsenal of options – including collection templates, meta fields, multiple landing page templates, and more – Expanse provides all the tools you need to deliver a memorable browsing experience to your visitors.
Expanse has a built-in feature that upsells your products by recommending items similar to what your customers browse in your store. The theme also offers templates to help you promote your products with minimal hassle. And, of course, customization is the name of the game with Expanse.
As for the pricing, Expanse comes with a one-time price tag of $350 for each online store on which you publish it. And if you're still on the fence, you can use the unlimited free trial to get a feel of the theme first. With Expanse, extensive inventory management becomes a cakewalk.
Meet Expression, a standout Shopify theme produced by Clean Canvas. Designed for stores with more extensive catalogs, Expression comes into its own for businesses in clothing and accessories, home and garden tools, or art and entertainment.
What sets Expression apart is its versatility. Whether you run a physical store or a Shopify dropshipping store, this theme is about enhancing your store's visual appeal. Its unique layout design allows you to display your product images in an array of compelling ways, be it as mini collection cards or sidebars, and so on.
With Expression as your ally, you're well-equipped to stand toe-to-toe with the big retailers in your industry. It's not merely about equalizing the competition; it's about providing your business with the advantage it requires to succeed.
As for pricing, Expression operates on a pay-once-and-use-forever basis. Moreover, you can enjoy an unlimited free trial to appreciate its features before committing fully. If versatility and extensive catalog management are your top priorities, Expression could be your ideal Shopify theme.
Factors to Consider When Choosing a Shopify Theme
Choosing a Shopify theme can feel like finding the perfect outfit in a wardrobe full of choices, and with so many attractive options, making the right pick can be overwhelming. To aid you in your decision-making process, there are several critical factors that you should consider.
Customization: Your store should be a reflection of your unique brand. Look for a theme with ample customization options, allowing you to adjust colors, fonts, and layouts to match your brand's personality. Remember, your theme serves as your brand's virtual ambassador – it should narrate your story compellingly.
Responsiveness: With customers browsing your store from many devices, your Shopify theme must rise to the occasion. Be it a desktop, laptop, tablet, or smartphone; your theme should ensure a flawless shopping experience across all platforms. A responsive theme auto-adjusts its layout based on the screen size, guaranteeing a seamless browsing experience.
Mobile Friendliness: As more customers shift to shopping on their smartphones, having a mobile-friendly theme is no longer optional – it's a necessity. Your chosen theme should look and work on mobile devices like desktops.
User-Friendliness: Smooth and effortless should be the mantra for your customer's shopping journey. Go for a theme that's intuitive and easy to navigate. Complex menus or convoluted buying processes can be a turn-off for potential customers. Your theme should be a friendly guide, quickly leading customers from browsing to checkout.
Speed: In the e-commerce world, speed is king. Online shoppers expect quick page loading times, and any delay can lead to cart abandonment. A well-optimized theme ensures fast website loading, keeping your customers engaged and reducing the likelihood of them clicking away.
Features and Add-Ons: Think about your store's desired functionality. Do you need a product zoom feature? A currency converter for your international customers? Ensure your chosen theme supports the features and add-ons essential for your business operations.
Budget: Last but certainly not least, consider your budget. Shopify offers both free and paid themes. While paid articles may provide more features and customization options, don't overlook the free ones. They can provide significant value and functionality, especially if you're starting.
Choosing a Shopify theme is like finding the perfect fit for a grand occasion. It should complement your brand, be comfortable for your customers, and suit your budget.
Wrapping Up: The Power of the Right Theme
Each theme offers unique advantages tailored to meet varying business needs. Whether you're showcasing a vast catalog or a focused, curated collection, there's a theme designed with you in mind. The crucial factor is to select the one that connects with your brand and corresponds with your business strategy.
Why does the proper theme matter? Well, the theme you choose can make or break your dropshipping business. It sets the tone for your customer's shopping experience. A well-chosen piece makes your store appealing and easy to navigate, guiding your customers smoothly through their shopping journey.
It goes beyond appearance – it encompasses efficiency, user satisfaction, and effortless integration with your company's processes. From SEO tools to product filters and customization options, these themes equip you with the tools you need to succeed in the competitive landscape of dropshipping.
Your Next Steps: Embrace the Future of E-commerce
By now, you've gained an understanding of the top Shopify themes for dropshipping, each brimming with unique features and possibilities. So what's the next step? It's time for action!
Remember, your choice of theme sets the stage for your e-commerce success. It's the virtual storefront that welcomes your customers, the pathway that guides their shopping journey, and the presenter that showcases your products. Choose a theme that aligns with your business ethos, caters to your unique needs, and creates an engaging, user-friendly shopping experience.
Are you ready to turn the page and embark on your dropshipping journey? Dive in, choose your theme, and let your e-commerce adventure begin.
At the Importify blog, we're committed to being your compass in the e-commerce landscape. Whether you're just starting or looking to scale up, we have the resources, insights, and tools to guide you.
Click here to dive deeper into the world of e-commerce, explore more comprehensive guides, get top tips, and keep up with the latest trends. And remember, we're here every step of the way because your success story is our mission. So let's write it together. Here's to your e-commerce journey – may it be filled with growth, success, and endless possibilities.