To succeed in the dropshipping market, monitoring your rivals and staying informed about the competition is essential. Through researching and analyzing their products, pricing, marketing techniques, and overall performance, you can decide what areas need improvement for your business growth.
For instance, you can utilize publicly accessible information to measure the relative interest in a competitor's product by evaluating their advertising initiatives. Additionally, you can examine if those ads are producing sales and use this data to inform your product choices.
Appropriate product research is paramount. To discover data concerning the availability and origins of a specific item, using instruments and resources to identify the vendors and their sources can be advantageous. You can also determine if their store is operated on Shopify's platform, assisting you in making well-informed choices regarding which products to vend and where to source them.
This article will cover some of the best tools and resources for conducting competitive analysis and research on Shopify stores. We'll show you how these tools can help you stay informed about the market and improve your results.
Let's begin!
The importance of competitive intelligence research
Competitor research is an essential part of any successful business strategy, and it's crucial to drop shippers looking to build a successful Shopify store. By researching your competitors, you can gain valuable insights into their strategy, products, and marketing techniques, which can help you make informed decisions about your business.
One of the critical benefits of market research is that it can help you identify new opportunities for your business. By understanding what other stores are doing, you can identify areas where you can differentiate your store and offer unique products or services that set you apart from the competition. This can be especially useful for drop shippers looking to find new products to sell or exploring new niches or target audiences.
In addition to helping you identify new opportunities, competitor research can help you stay up-to-date on the latest trends and developments in your industry. By watching your competitors, you can see what products are selling well and what marketing techniques are most effective. This can help you and your sales team to stay ahead of the curve and ensure your store is relevant and competitive.
Ultimately, the importance of market intelligence cannot be overstated. By investing the time and effort to research your competitors, you can gain valuable insights that can help you make better decisions for your business and improve your chances of success. Whether you use tools like Shopify spy extensions, Facebook Ad search features, or more comprehensive apps, there are many ways to gather the information you need to succeed in drop shipping.
Best competitive analysis research tools to consider
Below are some of the best market research and competitive intelligence software to consider in 2023.
The Koala Inspector's Structure feature allows users to view a Shopify store's web address, theme, and apps utilized. This can be useful for those who would like to gain insight from successful stores by picking up on strategies and techniques that are being implemented. For instance, customers may discover new themes or programs which could help their store's organization or sales. Additionally, with this feature, one can track how many sales a store has and changes made to it.
The Products feature of the Koala Inspector provides users with information about what products are selling, when, how many are selling, and for how much. This can be useful for users who want to stay up-to-date on the latest trends and popular products. Users can add new releases or best sellers to their favorites by clicking the heart icon. This allows them to track products they may want to consider selling in their store.
The Find Retailers feature of the Koala Inspector is a powerful tool that allows users to see how many other retailers are selling the same products as a particular store. This can be useful for users wanting to size up their competition and see where they are sourcing their products. Clicking on the provided links allows users to view similar products and their corresponding price ranges on other websites. This can be helpful for users who want to find a specific product or compare prices across different retailers, which can put them in a competitive advantage.
The Shop Traffic feature of the Koala Inspector shows users the amount of traffic a particular store gets and the trendline of that traffic over time. This can be useful for users who want to gauge the popularity of a product or determine whether it is still in demand.
The Ad Campaigns feature of the Koala Inspector is a helpful tool for users who want to learn about how a store is using ads to gain traffic and do market penetration. It shows users the number of ad campaigns a store has launched and the keywords used to drive traffic to those ads. This can be helpful for users who want to optimize their ad campaigns or understand the strategies that successful stores are using.
Other helpful features of the Koala Inspector include the ability to track stores in "My Shops," access to a subscription plan that increases traffic and retailer research limits, and access to Shopify coupons that can help users save money on tools for their store.
Ecomhunt is a company that provides various resources and services for drop shippers, including product research tools, a Chrome extension, and courses and ebooks.
The company's product research tools allow users to find successful products by identifying new, popular trends or products that are not yet widely known. Users can track the performance of various products over time and evaluate their strengths and weaknesses and overall level of popularity. Ecomhunt also offers a tool called Ecomhunt Adam, which allows users to see which AliExpress products are popular with detailed metrics.
The Ecomhunt Chrome Extension offers users two simple one-click features. The first is a direct link to a Shopify store's Facebook Ads, which can be helpful for users who want to see how a store uses ads to promote its products. Users can also access a link directing them to the store's Similarweb profile, providing detailed traffic and social media analytics.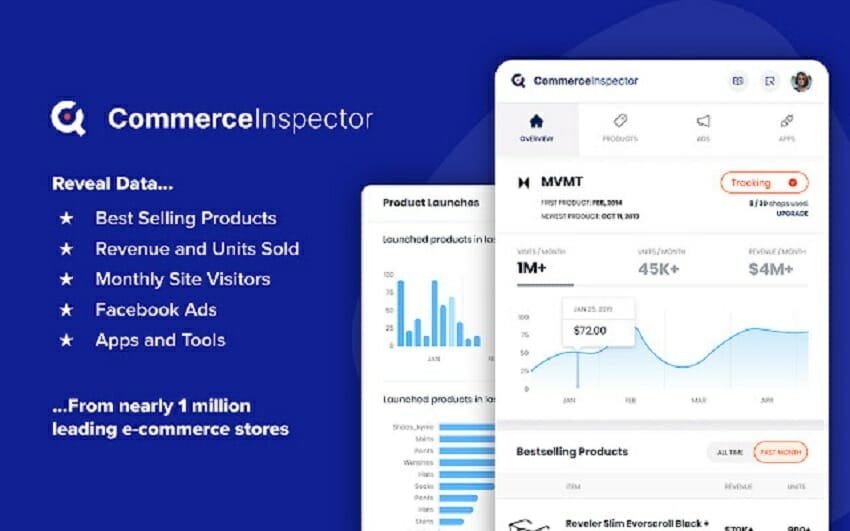 Top of FormThe Commerce Inspector Shopify App is designed to help users gain insights and gather intelligence about other Shopify stores. It packages its best spy features into a convenient Chrome Extension, which users can access when they visit a Shopify store. One of the critical features of the Commerce Inspector is its ability to provide users with detailed traffic source analytics. This can be useful for users who want to understand where a store's traffic is coming from and what channels are driving the most traffic to the store.
With this information, users can identify successful marketing strategies and techniques they may want to replicate in their stores. In addition to traffic source analytics, the Commerce Inspector lets users view important store metrics such as visits, units sold, and revenue earned. This can be useful for users who want to gauge the overall performance of a store and see how it compares to their store.
The Commerce Inspector goes beyond just the specific store that users are visiting, allowing them to see which Shopify apps a store uses and how many other stores use the same app. This can be useful for users who want to learn from the strategies and techniques of successful stores and identify new apps or tools that could help them improve their store's organization or sales. The Commerce Inspector extension provides an in-built Facebook Ad search function that enables users to locate ads from any category or shop. This feature is beneficial in checking the overall market.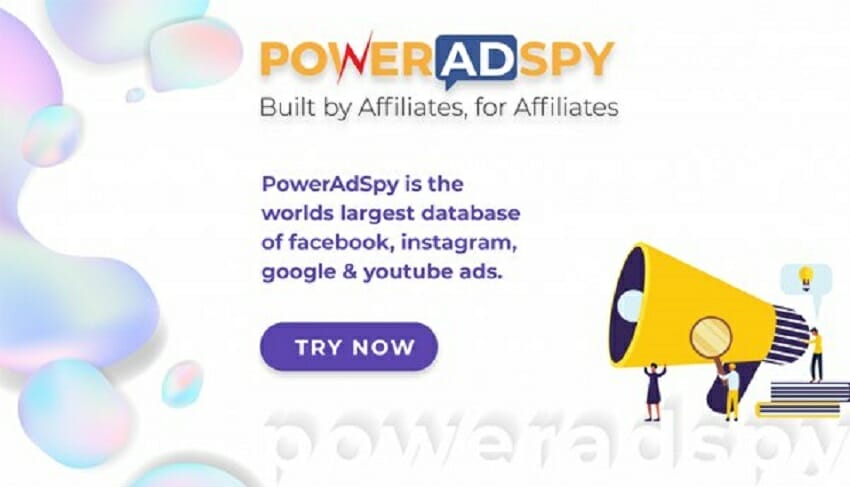 PowerAdSpy is a tool that allows users to track and monitor advertisements for dropshipping products on various platforms, such as Google PPC, YouTube, Quora, and Reddit. It offers a range of filters to help users focus on specific keywords, high-converting ads, and locations, providing a comprehensive overview of the ad landscape and the strategies used by competitors. The PowerAdSpy extension simplifies gathering this information with a single click.
Mailgaze is another competitive research tool that enables users to observe marketing emails from competitors within any product niche, keyword, or location. Users can stay current on the latest trends by searching for emails based on these criteria and see what products their competitors promote. 
This can be particularly useful for those who want to stay ahead of the competition and identify business opportunities. Mailgaze allows users to quickly and easily gather data and insights about their competitors' marketing efforts, enabling them to make informed decisions about their strategies.
My Ad Finder
MY AD FINDER is a Shopify app that offers a simple and quick solution for finding competitors' ads. The app is a chrome extension with three valuable features for spying on other stores' ads.
One of the critical features of MY AD FINDER is the ability to transform a user's Facebook feed into one that only shows ads. This can be especially useful for beginner drop shippers who may be overwhelmed by the variety of ads they see on Facebook. As they become more experienced, most of their ads will likely be for products or dropshipping services, so it can be helpful to have a feed that only shows these types of ads.
Another valuable feature of MY AD FINDER is the ability to add ads to a user's favorites list. This can be helpful for users who want to save and study advertisements that are particularly successful or that they find particularly inspiring. Lastly, the intelligence analysis extension allows users to look up all ads from a single company, making it easy to see the full range of products and services that the company is promoting.
The Shopify spy extension allows users to easily add products to their stores by scraping many products from other Shopify stores in a single action. When visiting a store that they like, users can use the extension to collect all of the necessary information about the products, including images, the title, description, product type, vendor, variants, and more, and organize it into an XLSX document in a format that is compatible with Shopify. This means that users do not need additional work to prepare the products for their store.
One of the significant advantages of the Shopify spy extension is its efficiency and convenience. The extension can save them much time and effort by enabling users to scrape thousands of products at once. Additionally, by extracting the product information into an XLSX document in the correct format, the extension streamlines the process of adding products to a store, eliminating the need for users to do any extra formatting or data entry. 
Overall, the Shopify spy extension is a valuable tool for users who want to quickly and easily add products from other Shopify stores to their store. Whether you are a beginner or an experienced drop shipper, this extension can help you save time and effort and simplify adding products to your store.
In conclusion
Shopify competitor intelligence tools can be a valuable asset for drop shippers who want to gain insights into the strategies of their competitors. By using these tools, drop shippers can learn from the successes of other stores, identify new opportunities, and stay one step ahead of the competition. Whether you're looking for detailed traffic analytics, information about which apps a store is using, or insights into a store's ad campaigns, there is a tool out there that can help you get the information you need.
Overall, the most important thing is finding the best tools for you and your business. Whether you prefer a comprehensive app that offers a range of features or a simple chrome extension that allows you to quickly and easily gather data, many options are available to help you gain a competitive edge in dropshipping. By using these tools to your advantage, you can improve your chances of success and build a thriving Shopify store that meets your customers' needs.