Unlocking Amazon's Secrets: How to Identify Best-Selling Products
Amazon is the largest e-commerce marketplace in the world, with millions of products sold daily across its global platforms. For online sellers and e-commerce entrepreneurs, identifying the top-selling items on Amazon is the key to boosting sales and profits. But with its vast catalog size and constant fluctuations in demand, cracking Amazon's code can be a daunting task. 
In this comprehensive guide, we will explore proven techniques and strategies to research Amazon's movers and shakers, analyze listings, utilize sales rank data, and leverage other insights to reveal the platform's best-sellers. Whether you are just starting or looking to expand your Amazon business, this inside information will help unlock the secrets to Amazon's success.
Understanding Amazon's Complex Ranking Algorithm
The first step to finding winning products on Amazon is grasping how its ranking system works. Amazon uses a complex proprietary algorithm to rank products based on a variety of factors, including:
Sales history: Items with strong sales velocities and numbers are rewarded with better rankings. New products with no sales history start disadvantaged.
Conversion rates: Products that can consistently convert browsers into buyers improve rankings. Low conversion items drop in ranks.
Inventory levels: Products that are out of stock or have low inventory tend to decrease in ranking. Items with steady stock available climb ranks. 
Customer reviews: Higher rated, more numerous, and recent reviews boost rankings. Poor or few reviews can tank product positions.
Click activity: Items that attract more clicks and generate sales still climb in ranks even if review counts are lower.
Competitiveness: Products in highly competitive categories with multiple sellers have lower conversion rates which impacts rankings. Less competitive items can more easily dominate.
While Amazon does not share the exact weighting for each factor, monitoring these signals can reveal rising stars in the algorithm's favor.
The Significance of Amazon Best Sellers Rank 
One of the most useful data points for gauging product performance is Amazon's Best Sellers Rank (BSR). This metric shows where an item ranks in sales compared to other products in its main category. For example, a BSR of #325 in Home & Kitchen means it is the 325th best-selling product in that category.
Higher BSR numbers indicate poorer sales and lower rankings. Lower BSR numbers denote stronger sales and better rankings.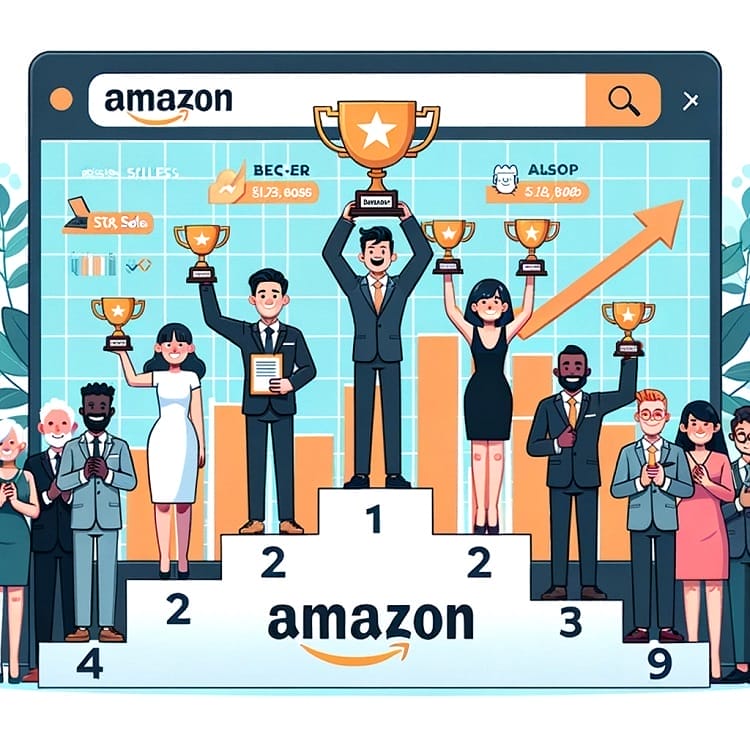 While the specific BSR threshold for success varies by category, a general guideline is:
BSR under 100: High-volume best-seller with over $50K monthly sales
BSR 100-500: Strong seller with $5K-50K sales 
BSR 500-5000: Decent product with $1K-5K sales
BSR 5000-10,000: Moderate sales up to $1K monthly  
Regularly monitoring BSRs in your product niche reveals rising or declining items to guide your Amazon selling strategy.
Proven Techniques to Research Winning Products
Combining Amazon's BSR data with other product analytics approaches makes it possible to systematically identify potential best-sellers across niches. Here are 7 proven techniques:
1. Analyze Amazon Movers and Shakers
The Movers and Shakers list highlights products experiencing rapid sales spikes, with BSR increases up to 90% day-over-day in some cases. Regularly analyzing this list reveals rising stars across categories. The key is spotting those with sustained momentum week after week, not one-off surges.
2. Monitor New Product Launches 
Amazon's algorithm favors newly launched products by boosting rankings for their debut, especially those backed by promotions like special deals and advertising. Pay attention to new releases in your niche and note ones generating buzz and strong initial sales.
3. Read Customer Reviews
Customer reviews provide qualitative insights to complement quantitative BSR data. Look for products with 4+ star average ratings and reviews highlighting exceptional quality, value, or uniqueness to identify crowd-pleasers. 
4. Research Amazon Search Trends
Leverage Amazon search data tools like Jungle Scout or Helium 10 to analyze keyword and search volume surges for specific products. Spikes in traffic and demand reveal rising trends.
5. Analyze Competitor Product Listings
Research competitors' product listings to identify their top sellers in your niche. Sort their offerings by "Best Selling" and analyze the BSRs of items at the top. This reveals products resonating with buyers.
6. Explore Amazon Category Best Sellers Pages 
Manually scan these pages in your niche sorted by "Top 100", "New Releases", or "Movers and Shakers". Look for overlap between these tabs to identify consistent top performers.
7. Leverage Google Trends and Keyword Tools
External keyword and search volume tools like Google Trends reveal rising consumer interest in specific product keywords and topics. Cross-reference these external signals with Amazon data for robust insights.
Top Amazon Seller Tools for 2023: A Comprehensive Analysis
Overview: Helium 10 is a suite of E-Commerce tools for entrepreneurs and businesses, specializing in aspects like keywords, listings, trends, and advertising.
Key Features: Black Box, Trendster, Scribbles, Keyword Tracker, Cerebro, Magnet, and a Free Version with limited functionality.
Pricing: Plans range from $29 to $209 per month.
Overview: Jungle Scout assists in identifying the best strategies to successfully grow your business on Amazon. It offers tools for product research, keyword analysis, sales estimates, and market trends.
Key Features: Product Database, Product Tracker, Opportunity Finder, Category Trends, Keyword Scout, and Rank Tracker.
Pricing: No free trial, but offers a 7-Day Money Back Guarantee.
Overview: Viral Launch is an analytics tool focusing on market intelligence for the Amazon marketplace. It aims to provide sales data and other essential numbers related to Amazon.
Key Features: Product Discovery, Product Launches, Keyword Research, Keyword Manager.
Pricing: Offers a 14-Day Trial period after subscribing to one of its premium plans.
Choosing the right tool is crucial for Amazon sellers. While each platform has its strengths and weaknesses, tools like Jungle Scout and Helium 10 stand out due to their comprehensive features and user-friendly interfaces. It's essential to consider factors like price point, user experience, and ease of use before making a decision. Ultimately, the best tool aligns with a seller's business model and meets their specific needs.
Exploring Dropshipping on Amazon: A Strategic Approach
Dropshipping on Amazon presents a unique set of opportunities for entrepreneurs looking to delve into the e-commerce world without the need for extensive inventory. This fulfillment method allows you to act as a middleman, connecting customers with suppliers while avoiding the hassles of stock management. In this section, we explore how dropshipping on Amazon works and how you can strategically leverage this model for your business.
Understanding the Dropshipping Model
In the dropshipping model on Amazon, you list products for sale without having them in stock. Once a customer places an order, you purchase the product from a third-party supplier who then ships it directly to the customer. This model significantly reduces overhead costs and risks associated with inventory management.
Leveraging Importify for Dropshipping Success
To streamline your dropshipping business and enhance efficiency, leveraging tools like Importify becomes indispensable. Importify simplifies the process of listing products from Amazon to other popular e-commerce platforms such as Shopify, Wix, or WooCommerce. With just a few clicks, you can import products, along with their descriptions, images, and prices, directly to your store on these platforms. This not only saves time but also ensures accuracy in your product listings, providing a seamless experience for your customers.
Amazon has stringent policies for dropshipping, emphasizing the need for transparency and a high standard of customer service. Ensure that all packaging and invoices reflect your business information, not your supplier's. Adhering to these policies is crucial to maintain a healthy seller account and foster trust with your customers.
Choosing Reliable Suppliers
The foundation of a successful dropshipping business lies in partnering with reliable suppliers. Focus on building strong relationships with your suppliers to ensure a stable supply chain and mitigate potential issues related to product quality and order fulfillment.
Listing Optimization for Dropshipping
Creating compelling product listings is crucial in attracting customers and driving sales. Utilize Importify to ensure your listings on other platforms are consistent with your Amazon listings, maintaining high-quality images, detailed product descriptions, and competitive pricing. Additionally, optimize your listings for search engines to enhance visibility and attract more potential buyers.
Managing Fulfillment and Customer Service
While the physical fulfillment process is handled by your suppliers, providing exemplary customer service remains your responsibility. Promptly address customer inquiries, resolve issues swiftly, and maintain a stellar seller rating to build trust and encourage repeat business.
Scaling and Diversifying Your Dropshipping Business
As your business grows, consider expanding your product range and diversifying your supplier base to tap into new markets and reduce risks. Stay informed about market trends, Amazon's policies, and best practices to ensure your dropshipping business thrives in the long run.
By strategically integrating dropshipping with tools like Importify, you can efficiently list products from Amazon to other e-commerce platforms, expanding your reach and increasing your potential for profitability. Whether you are a newcomer or looking to diversify your existing operations, dropshipping offers a flexible and scalable solution to grow your e-commerce presence.
Click here for more info about Dropshipping with Amazon.
Why Customer Reviews and Ratings Matter
Customer reviews are a driving force behind product success on Amazon. According to an industry survey, over 90% of shoppers read Amazon reviews before buying. Products with more positive reviews and higher star ratings tend to convert more users into customers. 
For new product launches, getting an initial surge of strong reviews helps establish credibility and social proof. This powers a self-reinforcing virtuous cycle: More reviews → Better conversion → Higher sales → Even more reviews. 
While sellers cannot pay for or incentivize reviews, they can proactively request buyers to provide honest feedback after purchase. Having an ongoing review generation strategy is key to long-term rankings success on Amazon.
Harnessing Amazon Movers and Shakers for Opportunity
One of the most useful tools for identifying rising products is Amazon's Movers and Shakers page. This displays items experiencing major spikes in popularity, with products ranked by their acceleration in BSR day-over-day. 
The Movers and Shakers list reveals products attracting surging interest from buyers. Monitoring it regularly provides invaluable consumer demand signals to capitalize on. 
When researching this page, pay special attention to products that demonstrate sustained momentum over weeks rather than one-time surges. Also, analyze customer reviews to gauge if buyer satisfaction matches the sales spike.
Cross-referencing with external trend data also validates if broader consumer demand is fueling the rise and makes it more likely to endure long-term.
Analyzing Competitor Product Pages for Insights 
Your competitors' product listings are a goldmine for identifying winning items to expand into. Here are three tips for effectively analyzing competitor pages:
Sort listings by "Best Selling: This surfaces their top-performing products based on real sales data. Look for items with consistently high rankings week after week.
Note key product details: Analyze what makes their best-sellers stand out. Look for unique styles, niche-specific features, value pricing, exclusive offers, etc. 
Check BSR history and trends: Use tools like CamelCamelCamel to view historical BSRs and sales for standout items. Rising or fluctuating? What events triggered spikes?
Thorough competitor analysis reveals gaps and opportunities to outperform them. If a rival item has declining sales, create an improved version that fixes buyer complaints. Identify overlooked niches and be first to market. Leverage the data to fuel your Amazon product selection.
Why Amazon FBA Turbocharges Sales
One of the "secrets" of many top-selling listings on Amazon is that they utilize Fulfillment By Amazon (FBA). Rather than self-fulfilling orders, the seller lets Amazon handle storage and shipping through its vast fulfillment center network.
FBA supercharges product success by:
Increasing conversion rates: Amazon Prime-eligible FBA items have free two-day shipping which shoppers love
Improving customer service: Amazon's stellar fulfillment means faster delivery and fewer issues
Boosting product visibility: FBA listings are more likely to be selected for Amazon's feature spots 
Reducing costs: Amazon's scale means lowered fulfillment fees and storage rates
Streamlining management: Outsourcing to Amazon frees you to focus on growing the business
If selling on Amazon, utilizing FBA should be a cornerstone of your strategy. The sales velocity boost is well worth the incremental fulfillment fees. 
Strategically Using Amazon Advertising 
Amazon's massive $30 billion digital ad business presents a huge opportunity for sellers. Advertising can help fuel sustained product visibility and sales. 
Some best practices for Amazon ad success include:
Launching new products: Advertising boosts initial discoverability and conversions to kickstart momentum
Promoting brand awareness:  Well-targeted ads reinforce brand image and build customer familiarity 
Driving sales for established products: Additional exposure keeps products top of mind amidst fierce competition
Improving product visibility: Ads can help regain visibility if organic rankings decline 
Reaching relevant buyers: Laser-targeted promos based on purchase history and search habits
Counteracting seasonality: Promotions smooth out seasonal sales dips 
Budgeting 5-15% of revenue for Amazon ads provides sufficient promotional firepower. Always monitor performance and tweak targeting for optimal ROI.
Ensure Product Listing Optimization
Creating compelling and SEO-optimized listings is table stakes for Amazon's success. Product pages are where buyers make do-or-die purchase decisions.
Check that your listings:
Have excellent visuals: High-res photos showing every angle and use case 
Thoroughly explain the product: Title, bullets, and description cover details, specs, materials etc
Are competitively priced: Frequently revisit pricing as the market shifts
Highlight key differentiators: Quantify quality, emphasize unique features, special offers
Are continually A/B tested: Try different wording, images, and pricing to maximize conversions
Leverage backend keywords: Optimize for relevant search terms buyers are using
Polish and refinement of your product listings never ends as you continually optimize conversion performance.
Monitoring Market and Competitor Trends
Success selling on Amazon requires acting upon insights faster than competitors. You need an information edge to identify opportunities first. 
Some key market monitoring practices include:
Setting up automated alerts for key competitors – Get notified if they launch new products or modify existing listings
Analyzing competitor Best Seller rankings daily – Use tools like Helium10 to automate this process
Tracking your niche's overall BSR trends – Are specific segments growing or declining?
Researching upcoming consumer trends – Get ahead of changes in buyer preferences 
Noting competitor pricing shifts – Adjust your pricing strategy accordingly
Following industry news sites and niche influencers – Relevant announcements may provide competitive openings to capture
Information is power when competing on Amazon. Invest time in proactively monitoring the ecosystem surrounding your products to sustain an edge.
Start Unlocking Amazon's Product Secrets Today
Succeeding on Amazon in 2023 and beyond requires diving deep into its inner workings and staying laser-focused on consumer demand signals. Master the techniques covered in this guide to identify best-selling products, optimize your listings, and leverage Amazon's data to fuel your e-commerce success.
The most successful sellers adapt to Amazon's perpetual motion, constantly testing and optimizing based on the latest insights. Now that you understand the secrets of the platform, it's time to start putting them into action. Identify and ride those winning products to the top of the charts.