Unlocking E-Commerce Success: A Deep Dive into AliExpress Dropshipping Center
E-commerce has experienced explosive growth in recent years, with more businesses than ever before embracing online retail. However, building a successful e-commerce business from the ground up can be an intimidating endeavor fraught with challenges. From managing inventory to marketing effectively, e-commerce entrepreneurs need to master many different skills to thrive in the digital marketplace. This is where dropshipping can provide a valuable solution.
Dropshipping allows e-commerce businesses to focus on sales and marketing without worrying about logistics like warehousing and shipping. With dropshipping, store owners list products on their websites without actually stocking inventory. When an order comes in, they purchase the item from a third-party supplier who then ships it directly to the customer. 
AliExpress has emerged as one of the most popular platforms for e-commerce entrepreneurs to find suppliers and products to dropship. The China-based marketplace boasts a vast array of goods covering everything from electronics to clothing and beyond. But with millions of products available, how can drop shippers identify the most profitable and trending items to sell in their stores?
An Overview of AliExpress Dropshipping
AliExpress provides a global platform for manufacturers and wholesalers, primarily from China, to sell goods in small quantities to businesses and consumers worldwide. This inventory is perfectly suited for dropshipping purposes. By purchasing items wholesale from AliExpress and selling at a retail markup, e-commerce businesses can enjoy strong profit margins.
Additionally, AliExpress suppliers often provide free shipping through ePacket delivery. This allows drop shippers to offer free shipping to customers, which helps drive conversions. The long delivery times associated with ePacket (2-3 weeks on average) mean stores should manage customer expectations by clearly noting shipping timeframes.
For those looking to start a dropshipping business, AliExpress offers some clear advantages:
Low startup costs: Buying wholesale allows purchasing small quantities. No need to invest in large inventory orders.
Simplicity: From supplier communications to order processing, the ecosystem streamlines operations.
Wide selection: An endless variety of goods makes it easy to find trending products.
Consumer data: Bestseller charts provide insight into rising product trends.
Built-in logistics: ePacket and special express options handle fulfillment and shipping.
However, there are also a few potential downsides to consider:
Long shipping times: Customers expect fast delivery, so this requires management.
Language barriers: Communicating with overseas suppliers can pose challenges.
Quality control: Not all suppliers maintain consistent quality assurance. 
Customer support: Additional effort is required to handle returns/exchanges.
Import duties: Cross-border shipping opens up the possibility of customs taxes.
The advantages outweigh the drawbacks, especially for those starting. Let's now look at how AliExpress facilitates dropshipping through its dedicated center.
Exploring the AliExpress Dropshipping Center 
To make dropshipping even easier, AliExpress launched its official Dropshipping Center in 2019. This section of the marketplace brings together verified suppliers who are friendly to drop shippers. It also aggregates lots of vital information for dropshipping success in one convenient hub.
The Dropshipping Center opens up access to the following resources:
Prescreened Suppliers
The site surfaces dropshipping-ready suppliers that offer bulk pricing, fast shipping, and high reliability. These vendors are pre-vetted to ensure they are safe to work with. The vetting criteria check that suppliers:
Have a strong record of positive reviews
Offer tracking numbers for shipments
Can customize packaging without branding
Communicate well and quickly
Accept returns/exchanges
This takes much of the supplier screening burden off drop shippers. The prescreened badge makes trusted trading partners easy to identify.
Free Brand Use
Many suppliers in the Dropshipping Center allow you to use their product images and branding freely. This helps create a more seamless customer experience.
Rather than forcing merchants to remove or cover up logos, these vendors permit white-label drop shipping. This makes product pages and packaging look like it's coming directly from your brand.
Product Research Tools
Useful tools like daily bestsellers, price trends, customer review analysis, and more help drop shippers identify winning products. The sales volume and frequency show instantly selling items ripe for tapping into. Price history charts help gauge appropriate pricing. Meanwhile, customer reviews provide qualitative feedback to assess product quality.
Promotions & Coupons 
Special offers provide opportunities to purchase inventory at discounted rates. This enables higher profit margins. Seasonal sales and bulk order discounts let merchants stock up on inventory while optimizing their costs. Getting the best possible supplier pricing leaves room for attractive margins.
Product Listing Optimization
Enriched product information makes it easy to customize listings for your e-commerce store. Get all the details you need for brilliant listings.
Complete technical specifications, multiple images, videos, shipping facts, dimensions, package contents, and more give you the tools to create stellar product pages. This level of detail improves conversion rates.
The AliExpress Dropshipping Center provides a "one-stop shop" bringing together the essential elements for running an effective operation. The benefits help explain why it has become a go-to resource.
Finding Trending Products to Dropship on AliExpress
Beyond supplier partnerships, arguably the most valuable aspect of AliExpress for dropshipping is its massive array of on-trend products ripe for selling. As a platform tailored to consumers worldwide, AliExpress offers a preview of what types of products will resonate across global markets.
When surveying the catalog, keep these product characteristics in mind:
Inexpensive: The most viral products tend to be inexpensive impulse buys under $50. Massive volumes make up for low margins.
Trendy: Tap into trends seen on social media and callouts from influencers. Fun gadgets and accessories get traction.
Broad appeal: Look for cross-demographic products with wide appeal. Something that solves common problems.
Good visuals: Strong images and video demos boost conversion rates. Eye-catching products perform best.
Positive reviews: Ratings and reviews boost credibility. Make sure feedback is mostly 4 or 5 stars.  
Low shipping cost: Suppliers offering ePacket rates help keep logistics affordable.
Here are some tips for finding promising products to dropship on AliExpress:
Analyze category bestsellers: Use sort filters to see top-selling items in niches that interest you. The most popular products make smart choices to dropship.
Dig into customer reviews: Don't just look at 5-star reviews. Go through lower-rated ones to identify product flaws and areas for listing optimization.
Monitor daily sales data: New arrivals and impulse buys will show up in the daily sales reports. Pay attention to spikes for evidence of trending products. 
Look for problem-solving goods: Products that solve annoying problems or inconveniences can gain quick traction. For example, multifunctional phone accessories.
Cross-check Google Trends date: See what people are searching for globally to identify rising searches that suggest untapped demand.
Research competitors: Use e-commerce product research tools to analyze what competitors are selling successfully already.
Follow influencers: Influencers often unveil popular products. Pay attention to affiliate promotions for clues on emerging hits.
Optimize listings: Great images, engaging copy, and urgent calls to action can all help boost conversions for winning products.
Stay organized: Use spreadsheets to track inventory levels, sales, and other metrics to identify your top performers.
By sticking to merchandise under $50 in hot categories and paying close attention to metrics, uncovering those hit products to capitalize on is very achievable on AliExpress.
Capitalizing on the AliExpress Ecosystem
By fully embracing the AliExpress dropshipping ecosystem, e-commerce businesses can gain an expansive product catalog, insightful data, automation capabilities, discounted inventory costs, and reliable logistics. You also benefit from the platform's built-in payment processing and dispute resolution mechanisms for added security.
For new e-commerce ventures, AliExpress represents an easy entry point because it removes much of the initial headaches associated with sourcing, payments, and shipping. But be sure to carefully vet suppliers and maintain stellar customer experiences.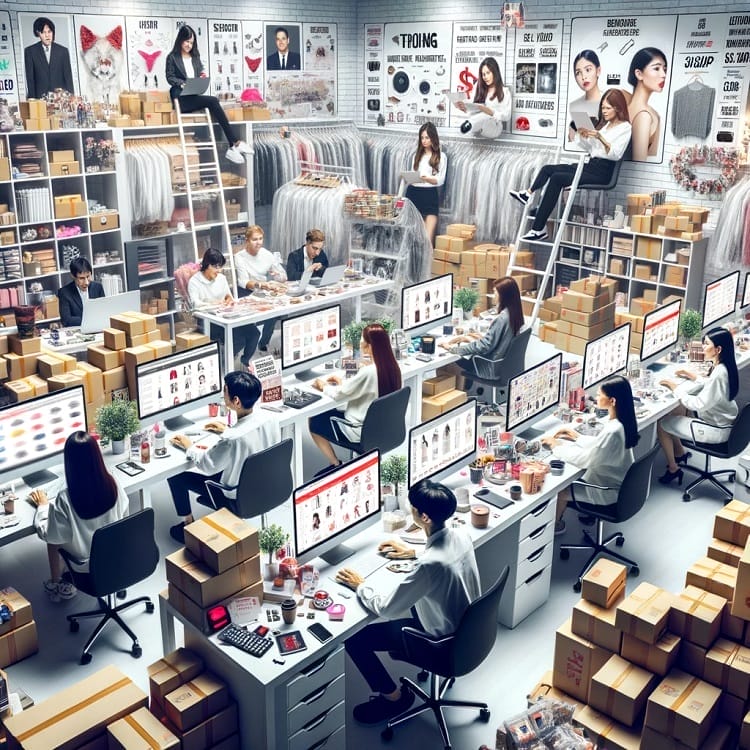 Here are some best practices to get the most from AliExpress dropshipping:
Order samples before selling any new product to check quality.
Build relationships with multiple suppliers to avoid stock issues.  
Underpromise on shipping estimates and delight with early deliveries.
Automate order processing through extensions like Importify
Respond to customer service issues promptly and politely.
Curate products that match your brand image and offerings. Don't just blindly import.
Market creatively through social media and influencers to boost sales.
The goal is to transform a transactional platform into an integral part of your brand experience.
Potential Challenges & Solutions for AliExpress Dropshipping
Although AliExpress presents numerous opportunities for businesses, there are some common challenges that one may encounter while using the platform. One of these is the possibility of receiving low-quality products from certain suppliers. This can be mitigated by conducting thorough research on the supplier's reputation and product reviews. Another challenge is the extended shipping times, which can lead to customers becoming dissatisfied with their purchase.
Long shipping times: Make shipping timeframes clear on listings and product pages. Offer faster shipping upgrades.
Language barriers: Use Google Translate for communications. Reconfirm details to avoid confusion. 
Poor quality products: Thoroughly inspect samples first. Analyze reviews and product images closely.
Inventory fluctuations: Cultivate relationships with multiple suppliers in one niche as a backup plan.
Import duties: Opt for ePacket shipping which reduces the chances of customs fees.
Product inconsistencies: Ask for photo samples from each batch to compare. Reject if quality drops.
Tracking lacks detail: Share tracking links with customers. Proactively update them when they arrive late.
Packaging issues: Request discreet packaging without supplier logos or branding.
Slow supplier response: Contact backup suppliers if primary ones are unresponsive. 
High return rates: Set clear policies on returns/refunds. Absorb some losses as cost of business.
Negative reviews: Address feedback directly and quickly. Offer resolutions to save the relationship.
The key is maintaining constant supplier relationships. Communicate issues quickly and clearly. Having contingency suppliers helps avoid stock-outs from a single source. Also, manage customer expectations upfront by being transparent.
The Future of AliExpress Dropshipping 
The cross-border e-commerce industry is projected to grow at a compound annual rate of 25% through 2022 as online shopping continues gaining popularity across the globe. This outlook suggests a bright future for AliExpress dropshipping.
We can expect continued enhancements to the Dropshipping Center as AliExpress caters more to this business model. API integrations with dropshipping tools will help further automate order processing. And suppliers are likely to offer faster shipping options to compete with Amazon Prime's speedy delivery.
Potential developments that could shape the future of AliExpress dropshipping include:
More fulfillment options: Next-day and two-day shipping services through China's expanding logistics networks.
Tighter supplier integration: Deeper API connections to automate reorders, inventory syncing, and order tracking.  
Expanded product categories: Increase in US and European-based suppliers to diversify offerings.
Shopping algorithm personalization: Use of artificial intelligence to surface products matched to shopper preferences.
Built-in advertising platform: Self-serve ad capabilities to help stores promote products.
Enhanced mobile experience: Given rising smartphone usage, improvements to mobile shopping experience. 
Tighter quality control: Stricter supplier onboarding and production standards to improve consistency.
More payment methods: Support for emerging payment types like Apple Pay and cryptocurrencies.
Global warehouse expansion: More fulfillment centers across North America, South America, and Europe.
By staying ahead of these trends and innovations, dropshipping merchants can sustain success.
In Conclusion
Through attentive product research, strong supplier relationships, and slick marketing, e-commerce merchants can leverage the AliExpress dropshipping model to unlock transformative business growth. Capitalize on this thriving global marketplace while carefully optimizing each piece of the dropshipping process.