Why Etsy is the Best Choice for Your Shopify Dropshipping Business
For aspiring entrepreneurs and e-commerce business owners, integrating Shopify and Etsy can be a match made in heaven. With Shopify's powerful e-commerce platform and Etsy's unique, handmade products and artisanal goods, this combination offers immense potential for building a profitable dropshipping business.
Dropshipping has exploded in popularity in recent years as an attractive business model that lets you run an online store without holding any inventory. With dropshipping, you act as a middleman – listing products from a supplier on your online store, and sending customer orders to the supplier for fulfillment. 
While platforms like AliExpress and Alibaba are commonly used for dropshipping, Etsy offers some unique advantages that make it the best choice for dropshipping. In this comprehensive guide, we'll explore the key benefits of using Etsy with Shopify for your dropshipping business.
Why Etsy is Ideal for Shopify Dropshipping?
Etsy has emerged as a powerhouse for unique and creative products, making it a perfect match for Shopify entrepreneurs interested in dropshipping. This synergy allows for a diverse catalog of products that can be sold without the need for inventory storage, capitalizing on consumer trends toward personalized items. Let's delve into why integrating Etsy with your dropshipping business could set the stage for a successful e-commerce venture.
Unique and Curated Product Selection 
Etsy is like no other marketplace. While sites like Amazon and eBay have everything under the sun, Etsy specializes in handmade, vintage, and craft products you won't find anywhere else. With over 60 million items across every category – from jewelry to art to home decor and more – Etsy offers a product selection that is markedly different from mass-produced factory items.
This means your Shopify store can stand out with creatively designed, artisanal products that will appeal to customers looking for something truly unique. The limited inventory also helps ensure your products will not be sold elsewhere.
Some examples of the types of distinctive products you can find on Etsy include:
Handmade ceramics with original designs and glazes
Vintage teak wood furniture, mid-century modern style  
Jewelry made from natural stones and ethical metals
Framed prints and paintings by independent artists
Upcycled bags and purses made from reclaimed materials
Soy wax candles with creative scents and packaging
By offering a wide range of unique products that are not available on popular e-commerce platforms, you can establish a specialized market and present shoppers with eye-catching products.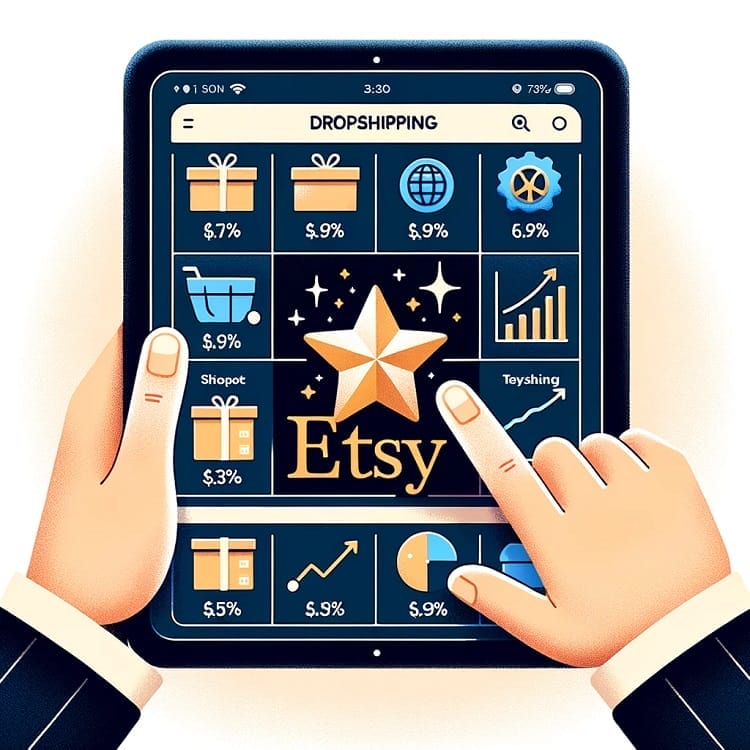 Seamless Integration with Shopify
Shopify and Etsy integrate beautifully thanks to the Importify app available on Shopify's app store. This makes the process of importing Etsy products into your Shopify store a breeze.
The Importify app allows you to:
Select desired products and import them into your store with one click
Import Etsy Product Videos
Sync product details like descriptions, images, variants
The easy one-click import process means you can have your Etsy-based Shopify store up and running in no time. The entire operation is seamless and requires minimal effort on your part.
Opportunity to Build a Curated Niche Store
With Etsy's rich diversity of producers and specialty items, you have the chance to carefully craft a highly curated, niche store. For example, you can create a Shopify store specializing in boho jewelry, hipster prints, and English tea sets – virtually any niche with enough demand. 
Some popular niches well suited for Etsy include:
Print and poster art around specific themes like landscapes, motivational quotes, or pop culture
Vintage clothing and accessories from specific decades like the '60s, '70s, and '80s
Handmade soaps and bath products with fun scents and ingredients  
Custom pet accessories like bandanas, bowties, ID tags
Geeky merchandise around gaming, sci-fi shows, anime
Building a niche maximizes your chances of dominating the search rankings around your specialty rather than competing directly with e-commerce giants. A niche also helps foster a committed customer base that returns again and again for your specialized offerings.
Etsy's Reputation for Quality and Trust 
Etsy has earned a sterling reputation as a trustworthy marketplace with strict policies around handmade, authentic goods. Unlike Alibaba or AliExpress, you don't have to worry about shady wholesalers or low-quality products.
Etsy's community and reputation provide a "trust halo" effect that makes customers feel confident purchasing from a Shopify store stocked with Etsy items. This gives your store added credibility right off the bat.
Positive customer testimonials help reinforce this trust. Be sure to ask Etsy sellers to provide product photos of real people. This further enables customers to visualize items in a realistic setting.  
Etsy fosters a vibrant community of makers, crafters, and specialty producers. Many are willing to work with you to customize products or adapt them to your niche. This is very different from impersonal wholesale suppliers who offer no flexibility or customization.
For example, if you're creating boho jewelry sets, the Etsy artist may be willing to develop coordinated necklaces, earrings, and bracelets. Or for pet products, they may create color-coordinated items.
You can work directly with sellers to develop offerings aligned with your brand story and target audience. The collaboration can be advantageous for both parties.
You can also tap into Etsy's forums and community groups to get advice about production, techniques, trends, and more to help refine your niche. Connecting with the makers themselves allows you to gain valuable insights you won't find anywhere else.
Operational Benefits of Using Etsy with Shopify
Combining Etsy's unique marketplace with Shopify's robust e-commerce platform can yield significant operational advantages for business owners. This fusion not only streamlines various processes but also maximizes efficiency and reach in the online retail space. Below, we explore the dynamic benefits that this integration provides, enhancing your ability to operate seamlessly and scale effectively."
Ease of Use
Etsy's marketplace and Shopify's e-commerce platform are both designed for user-friendliness. With a few clicks, you can upload a product from Etsy to your Shopify store thanks to the integration app. Managing inventory, order fulfillment, and tracking are seamless between the two platforms.
The app dashboards on both Etsy and Shopify make it easy to:
Monitor new orders coming in
Keep track of inventory quantities
Initiate one-click order fulfillment 
Provide tracking info to the customer
Manage accounting like sales reports and revenue
This simplicity allows you to get your dropshipping business up and running quickly without technical hurdles or learning curves.
Powerful Marketing and SEO Capabilities
Shopify offers an arsenal of built-in marketing and search engine optimization (SEO) features to help drive traffic to your store. You can easily create:
Landing pages and microsites for campaigns 
Email sequences and flows to engage customers
Blogs and video content for organic marketing  
Facebook and Instagram advertising directly on Shopify
Shopify also offers hundreds of apps and integrations to further power your marketing. You can quickly launch Google and Facebook ads right from your Shopify dashboard to generate leads and sales.
For SEO, Shopify lets you optimize product pages and blogs with relevant keywords. Automatic meta descriptions, tags, and alt text help boost search visibility.
Cost Effectiveness
Dropshipping with Etsy requires no upfront investment in product inventory. You simply list Etsy products on your store as buyers order them.
Etsy charges just a 5% transaction fee, while Shopify's starting plan is only $29/month. This creates a very scalable business model with limited risk or overhead. Even as your shop grows, your costs remain low.
The minimal investment needed to start makes this business model accessible even to those with limited funding. You can get up and running without the need for loans or external funding.
Customer Loyalty & Repeat Business
Research shows that customers are willing to pay higher prices for unique, quality products. Etsy's specialty inventory caters perfectly to this demand. 
The memorable experience customers enjoy when purchasing handcrafted, custom items also fosters greater loyalty and repeat business over time compared to mass-produced products.
Drawing inspiration from your niche, you can also develop loyalty programs like free shipping over a threshold, member-only sales, or freebie rewards. Special occasions like birthdays or loyalty milestones present opportunities to delight customers and keep them coming back.
Legal and Ethical Considerations
Although there are numerous benefits to using Etsy, it is important to consider the ethical implications of selling another company's products in your store. It is crucial to adhere closely to Etsy's terms of use and accurately represent the creators and production methods associated with each product. Transparency is key to establishing trust. Additionally, it is essential to note that copyrighted items are prohibited on Etsy unless you are a licensed reseller and comply with the platform's terms and conditions.
It's also wise to order some product samples to ensure their quality firsthand before selling them yourself. It would be best if you aimed to provide the same level of customer service for items drop shipped from Etsy as you would for your inventory. This includes prompt shipment, packaging with care, and quickly resolving any issues.
Providing excellent service ensures your niche store becomes the go-to destination for the specialty products you offer. Delighting customers also results in positive word of mouth, reviews, and repeat business.
The symbiotic relationship between handmade suppliers on Etsy and niche store owners on Shopify offers benefits on both sides. With thoughtful practices, dropshipping through Etsy can be ethical, sustainable, and profitable.
Keys to Success with Etsy Dropshipping
Follow these best practices to maximize your chances of success with an Etsy-Shopify dropshipping model:
Carefully vet sellers: Review shop stats, policies, reviews, etc. to pick reliable high-quality sellers. Test out product samples first.
Cultivate long-term relationships: Build partnerships with your suppliers through excellent communication and transparency.
Deliver outstanding service: Make customers feel like they are shopping directly from your online store. 
Focus on a niche: Curate products tailored to a specialized target audience for a distinctive offering. 
Leverage marketing tools: Use platforms like email, social media, and SEO to promote your products and brand.
Monitor trends: Stay on top of what is resonating in your niche by engaging with the Etsy community.
Conclusion
Etsy provides an unmatched selection of handcrafted, unique products that allow Shopify store owners to stand out in the crowded e-commerce space. By integrating these two platforms, online retailers can operate scalable dropshipping businesses cheaply.
Domain expertise and passion for a niche create the foundation for curating an engaging Shopify store using Etsy's artisanal inventory. Marketing capabilities provided by Shopify help drive traffic and increase sales.
Although it is necessary to conduct some research, combining Shopify and Etsy can create a successful collaboration for managing an ethical and specialized dropshipping store. By utilizing the unique advantages of these two platforms, one can establish a flourishing business model.
So for e-commerce entrepreneurs and Shopify store owners, integrating Etsy products is an exciting avenue to explore. With creativity and strategic execution, your customized Shopify-Etsy dropshipping store can offer rewarding results.
Ready to elevate your e-commerce game? Dive into Importify's Blog, your go-to destination for cutting-edge insights, expert guidance, and the latest trends in the online retail space. Stay informed, stay ahead—start exploring now!