The power of social proof can be invaluable for boosting sales and establishing a trusting relationship with customers. By displaying recent purchases, reviews, and other customer-generated content on a website, businesses can demonstrate to potential customers the popularity of their products.
To take advantage of this powerful tool, WordPress offers a range of the best social proof plugins available. These plugins make showcasing customers' positive experiences easy, demonstrating that the product is in high demand and worthy of trust.
This article will explore the best WordPress social proof plugins for 2023 to help increase sales and build customer trust. These plugins enable website owners to display customer reviews, testimonials, and other social proof elements, promoting customer confidence and boosting conversion rates. When used correctly, a robust social proof strategy can be established to maximize sales and create a lasting bond with customers.
Let's get started.
What is social proof marketing?
Social proof is an important marketing tool that can significantly impact online businesses success. It is a form of psychological persuasion in which potential customers are more likely to take action when they observe others taking that same action.
This can come from customer reviews, social media posts, and influencer endorsements. In eCommerce, incorporating social proof into your store can be done using Woocommerce plugins.
These WordPress plugins allow businesses to create personalized messages, share customer reviews, and even give discounts to customers who have shared their purchases on social media.
How does social proof work?
Understanding how it works emotionally is critical to using social proof effectively. When you see other people engaging with your product or brand, it can influence your behavior.
For example, if you see several customers rating your product 5 stars on Amazon, you will likely assume that this is a good product. This is because social proof effectively reinforces your own beliefs.
What are the advantages of having social proof on your site?
Having social proof on your website can be a great way to increase customer engagement and trust. By displaying customer reviews, ratings, or photos from past customers, potential customers can quickly see that other people are satisfied with your products and services.
This can help increase their confidence in the quality of your products or services and encourage them to purchase. Social proof can boost website traffic and create a sense of community around your brand.
Increased credibility

– Social proof can help to build trust between customers and businesses, as it shows that others have had a positive experience with the company.

Increased conversions

– Customers are more likely to act if they see that others have already done so.

A better understanding of customer needs

– Through social proof, businesses can gain insight into the needs and preferences of their customers.

Enhanced reputation

– Positive social proof increases a business's reputation and makes it more attractive to potential customers.

Improved customer relationships

– Social proof helps to create a sense of community and connection between businesses and their customers.

Increased brand awareness

– People who see social proof of your brand or product are more likely to recognize and remember it.

Improved customer retention

– When customers feel optimistic about their interactions with your business, they're more likely to stay with you for extended periods.

Increased customer loyalty

– Customers who feel appreciated and connected with your business are likelier to return and recommend you to their friends and family.
What are some of the best social-proof WordPress plugins?
There are a lot of great social proof plugins available, and the ones we've listed here are some of the most excellent social proof plugins in 2023. Each plugin has unique features and advantages, so choosing one that fits your needs is essential.
Web push notifications are a type of alert message that can be sent to users on desktop web and mobile web. These notifications appear in a desktop screen's upper or lower right-hand corner.
Popify enables businesses to recover potentially lost sales through web push notifications. These messages can be sent via desktop web and mobile browsers and appear in an alert-style format at the top or bottom right-hand corner of a desktop screen. Push notifications act as reminders following a visitor abandoning their cart, prompting them to return and make the purchase.
Popify offers a comprehensive abandoned cart recovery solution, allowing store owners to send push notification reminders to customers who have left their shopping carts behind. This process will initiate minutes after a visitor has abandoned their cart.
Popify offers five types of popups:
Communicate popup – businesses can effectively engage with their customers through pop-ups, allowing them to send personalized offers, call-to-action links, news, and updates. This provides an excellent opportunity for businesses to create a lasting connection with their customers by providing them with relevant and timely information.
Counter – shows the number of visitors currently browsing your store.
 Reviews – Popify's integration with Editorify reviews app enables businesses to draw in customers through the latest product reviews
Customer Activity – Increase visibility for your recent sales by encouraging customers to add items to their carts.
Discount Popup -Retailers can use discount codes to provide visitors with exclusive deals and promotions.
TrustPulse is a WordPress social proof plugin that uses the FOMO effect to showcase real-time notifications of user activities on a website. In just a few minutes, users can configure their sites with TrustPulse to display messages regarding purchases, form submissions, free trial signups, and more.
Utilizing this plugin has been proven to boost conversions significantly, with some websites experiencing an increase of up to 15%.
TrustPulse is a powerful plugin ready to use straight out of the box. It offers smart targeting, allowing users to display social proof to the appropriate people at the optimal time. TrustPulse seamlessly integrates with eCommerce platforms and enables users to customize the detection of specific user activities.
Furthermore, its unobtrusive notification popups will not interfere with the content or user experience of the site, making it highly effective.
TrustPulse provides users with integrated data which allows them to evaluate which webpages generate the highest number of conversions. This characteristic allows users to enhance their content and maximize conversions even more. The service is accessible without charge for up to 500 visits per month, after which fees start at $4/month (paid every year).
Editorify allows businesses to collect customer reviews and videos from verified sources such as Aliexpress, Alibaba, Dhgate, Banggood, Etsy, and more. This feature enables businesses to benefit from improved customer trust and engagement, ultimately increasing sales.
Editorify offers a free plan which allows users to get up to 50 reviews. This plan is limited in various ways compared to other plans offered. Restrictions on the rating filter are limited, with no option to customize the form page or edit reviews from the extension. Additionally, blocklisting keywords are not available.
Premium and gold plan subscribers can have access to can now import an unlimited number of reviews from a variety of websites, including Aliexpress, Amazon, and YouTube. Additionally, they can import images, customize their design elements, filter by star rating, blacklist specific keywords, generate dates and names automatically with corresponding country flags, create a Showcase Page to highlight products with reviews, and import reviews to multiple products. All customers have access to 24/7 customer support.
Editorify, the revolutionary editing platform, is now accessible to users of WooCommerce, Shopify, Wix, and BigCommerce.
Nudgify offers a unique social proof solution to enhance customer experience and increase conversion rates. It provides a suite of Social Proof, FOMO, Urgency notifications, and friction-reducing Nudges. Easily integrate with WooCommerce or WordPress to display recent sales, signups, and hundreds of other apps.
Nudgify is an optimal tool for SaaS businesses, allowing users to customize and create their Nudges to announce discounts or new features on any page. Furthermore, the built-in analytics dashboard enables users to track how their Nudges are performing, with notifications displaying live data.
NotificationX is a powerful WordPress plugin facilitating Social Proof capabilities on high-traffic websites. This user-friendly plugin can be installed on your site by uploading a zipped Installation File, providing permanent accessibility.
WPDeveloper, its creator, also offers ongoing support and maintenance services for the plugin to guarantee maximum value.
NotificationX boasts a range of features tailored to the needs of specific users. For instance, the plugin sends notifications when blog posts receive comments, making it ideal for bloggers. 
Additionally, integrations with several popular plugins and tools, such as WooCommerce, Easy Digital Downloads, and Zapier, are available.
WPForms is one of the best Woocommerce plugins for social proof and is known for being the most user-friendly WordPress form plugin. It allows users to create simple to advanced forms quickly and easily, with tons of pre-designed form templates that can be used to create forms instantly.
This plugin enables businesses to optimize their online presence by increasing customer engagement and trust, helping them to develop a loyal customer base. WPForms has been praised for its ease of use, intuitive design, and comprehensive features, making it an excellent choice for any business looking to increase social proof.
For websites to collect and display user reviews, a blog post submission template may be customized to fit their needs.
OptinMonster is a widely-used lead generation software and WordPress popup plugin. It enables website administrators to create attractive popup forms that can help convert visitors into subscribers.
It also leverages social proof content and features a countdown timer to increase eCommerce sales. Furthermore, the platform allows for highly customized popups, making it a powerful tool for businesses looking to maximize their lead generation process.
OptinMonster is very user-friendly and easy to use, making it perfect for businesses of all sizes. It also offers an extensive support team that can help to customize and optimize the plugin for your needs.
WPFomify, a plugin not found in the WordPress listing, can be purchased directly from its website or on AppSumo. It offers users an intuitive interface and advanced features, such as multiple locations targeting options, comprehensive integrations, and powerful targeting rules.
WPFomify has a unique notification bar that can be configured to function as a countdown timer. WPFomify offers a bonus by allowing UTM tags to be included in notifications, allowing for traceability within analytics.
Although this UTM tagging system falls short of Google Analytics integration, as advertised on their website, it is an incredibly beneficial feature for smaller businesses and challenger brands.
Unfortunately, WPFomify cannot distinguish between real or fake Social Proof notifications.
Provesource has established itself as a leading provider of Social Proof solutions. Its plugin offers seamless integrations with various third-party applications, allowing businesses to showcase various customer activities within their notifications.
Furthermore, the plugin allows for customization and adjusting settings, enabling users to tailor the display for different visitors. Among its many features is its review notification capability, which displays top reviews from Facebook, Trustpilot, Google, Yotpo, and Capterra.
Provesource boasts support for over 20 localizations, providing users with comprehensive control of their content and targeting. Among the options available are hiding anonymous conversions and excluding certain products from their notification stream.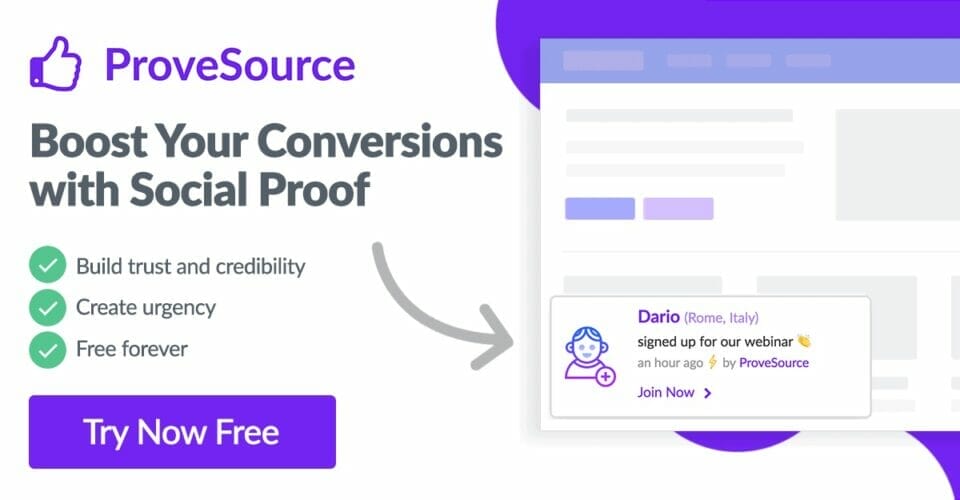 Shared Counts is a user-friendly WordPress plugin that lets website owners add social media share buttons to their web pages. Additionally, the buttons will display the post or page share count on relevant social networks, providing a tangible form of social proof that showcases the website's popularity.
Shared Counts enables readers to effortlessly share content across their preferred social networks with only a button click.
The Shared Counts plugin allows users to leverage the SharedCount.com API to utilize the most popular social media services, including Facebook, Pinterest, Twitter, and LinkedIn. Additionally, a button is included to allow readers to email content to someone else quickly. 
Proof Factor offers a gamification marketing strategy that combines recent activity notifications and live visitor counts with email capture popups. These popups are triggered as visitors attempt to leave the website, presenting them with a spin wheel.
By utilizing this strategy, businesses may experience an increase in signups. However, it is essential to note that the quality of leads may also be affected.
Although Proof Factor does not offer as many customization options or integrations as other solutions, it does provide an exit-intent widget, a notable feature.
WP Social Proof is one of the best and most popular WooCommerce plugins for social proof. It comes in two versions, Essential and Premium, which offer great value for money.
Both versions provide users unlimited notifications and visitors and three types of social proof notifications: recent sales, reviews, and referrals. With these three tools, business owners can quickly build customer trust and increase conversions.
The plugin features built-in integrations which enable the display of recent sales messages for WooCommerce sites with minimal setup requirements. Furthermore, users can customize the sound accompanying notifications.
A small team has developed and maintained the platform. However, there may need to be more consistent support provided. It is worth noting that some users have raised issues concerning the presentation of notifications on mobile devices.
What are some ways to create social proof on your site?
Include testimonials
Testimonials are a great way to create social proof on your site. You can add testimonials from past customers or clients or even use quotes from famous people to help legitimize your product or service.
Ensure you attribute the testimonial appropriately and make it easy for visitors to find. Additionally, list all of the testimonials on your website so potential buyers can see how much faith others have put in your product.
Create a blog
If you sell products or services, blogging can be a great way to show off your work and connect with potential customers. Not only will this help you build trust with potential buyers, but it can also generate traffic and leads.
Share your blog posts on social media.
Share content from your blog on social media platforms like Twitter, Facebook, and LinkedIn. This will help build awareness and reach out to potential buyers who may not have seen your blog posts yet.
Publish case studies
Publishing case studies is a great way to establish social proof for your eCommerce store. With the suitable Woocommerce plugins, you can quickly post and showcase customer and success stories, to help further establish credibility and trust with potential customers.
Show off customer logos
Showing off customer logos is another effective way to show social proof on your website. By displaying company logos on the homepage and throughout the site, you're letting potential customers know that real people with real experiences back you. This helps build trust and credibility with potential customers, who may be more likely to purchase from a business they trust.
Use testimonials as call-to-action buttons
One of the best ways to use testimonials as social proof is to use them as call-to-action buttons. You can encourage even more people to visit your site and make a purchase by encouraging your followers to leave positive reviews and feedback. This can effectively drive traffic to your eCommerce store and increase sales overall.
Leverage social media reviews
Just as testimonials can be used as social proof on a website, reviews on social media can also help build trust and credibility. You can encourage potential customers to read and learn more about your products and services by including a link to each review on your website. This can help them make an informed decision about whether or not to buy from you and increase the chances of a successful purchase.
Feature influencer endorsements
Some ways to create social proof on your site include integrating customer testimonials, publishing case studies, and featuring influencer endorsements. By showcasing real people's positive feedback and experiences, you can help build trust and credibility with potential customers. This can lead to increased sales and lower abandonment rates on your website.
Utilize user-generated content
User-generated content is another effective way to create social proof on your website. By encouraging your followers to share their thoughts and experiences about your products and services, you can help increase the reach and visibility of your content. This helps build trust and credibility with potential customers, who may be more likely to purchase from a business they trust based on the opinions of others.
Share awards & accolades
Sharing awards and accolades is another way to show social proof on your website. By highlighting your customers' positive feedback and success stories, you can help increase the trust and credibility of your company. This can lead to increased sales and lower abandonment rates on your website.
Write about the usability of your product or service
In addition to writing about the features and benefits of your product or service, it can also be helpful to write about the usability of your product. Explaining how easy it is to use your product or service can help build trust and credibility with potential customers. This can lead to increased sales and lower abandonment rates on your website.
What are the best practices in choosing the best social proof plugin for WordPress?
Consider compatibility with other plugins or themes.
Look for a plugin that offers customization options.
Check for customer reviews and feedback.
Consider the pricing structure and features offered by the plugin.
Make sure the plugin is regularly updated and maintained.
Ensure the plugin has a user-friendly interface.
Check if the plugin supports multiple social networks, like Facebook, Twitter, Instagram, etc. Ensure the plugin integrates with other marketing tools, like email marketing and Google AdWords.Ensure the plugin integrates with different eCommerce platforms, such as Shopify and WooCommerce.
 Ensure the plugin integrates with your website's content management system (CMS) or social media management system (SMS).
In conclusion
Social proof is an effective way to drive traffic to your eCommerce store and increase sales overall. It is essential to consider the best practices when choosing a social-proof plugin for WordPress. This will help ensure you utilize the most effective methods to create trust and credibility with potential customers.
Importify is the best dropshipping platform for WordPress and Shopify users, offering a range of features and customization options to ensure your store's success. With Importify, you can easily create social proof on your website and leverage it to increase sales and conversions.
Business owners looking to increase their profits and expand their operations should look closer at the features offered by Importify. With the help of our comprehensive platform