21 Best Apps to Increase Sales on Your Shopify Store
If you are a Shopify store owner and want to increase sales on your store, this blog post is for you.
Did you know there are hundreds of Shopify Apps? These great tools allow newbies and more advanced users to skyrocket their sales and make the most of their Shopify store. Picking the right apps for your store is a crucial step and can make a big difference in your store performance.
Shopify marketplace is like walking into a biz owners' wet dream – dozens upon dozens of features waiting just outside your doorstep, ready to install as soon as possible.
We know that there's a wide variety of apps out there it can be hard to find the right ones that will help increase sales, so we've narrowed it down to specific 21 apps that will improve your conversation rate and increase sales on your Shopify store. Each of them has a different use, and we'll go over what they do in detail. We know you're busy, so don't worry; we've summarized it for you below.
Let's get right to it and see the best Shopify apps to increase sales, find the best products to sell, boost your conversion rate, social proof, and traffic. Most of them are free or offer a free plan.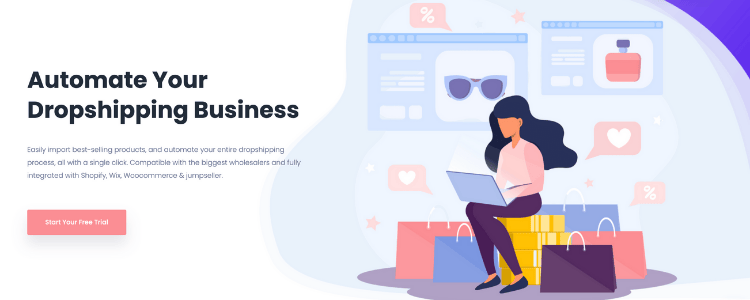 Let's start by talking about adding products to your store. Importing products manually to your store, especially if you're running a dropshipping store, involves a lot of effort and can be a very time-consuming task, but using Importify, can be done quickly and easily.
The Importify app allows you to import products from AliExpress, Amazon, Etsy, and tons of other suppliers with just a few clicks.
Another great time-saver feature is Importify's semi-automatic orders fulfillment feature, which lets you process your orders through the app. Once you receive an order, you can fulfill it with only a few clicks and be redirected to your supplier site, where the customer and order details will be populated automatically.
Using Importify, you can also find more products to sell using the Bestselling products spy tool, revealing the best-selling items in every niche.
Pricing  
Free trial available, upgrade to paid plan start from $14.95/month.
One of the most powerful tools for generating more sales at your store is to use a strong social proof effect. That's why it is essential to have customer reviews on your product page.
If you want to increase sales on your Shopify store, customer reviews are an essential factor. It's worth noting that you don't have to use your customer reviews, but you can import honest customer reviews of the same products you're selling from other suppliers' sites.
Those reviews drive potential customers that are currently browsing your store to see what other people think about your products and services before making a purchase decision and convince them to buy from you.
Using Editorify, you can import customer reviews, images, and explainer videos for your products from many supported suppliers sites such as AliExpress, Alibaba, Etsy, and many more.
You can also create a unique happy customers page to show off all of your customer positive reviews in one place.
Pricing
Free plan available., upgrade to paid plan start from $9.95/month
Shopify has various apps to increase your sales by creating FOMO and urgency, and Popify is one you should try. This app allows you to create social proof and urgency by showing events of recent purchases and add-to carts being made at your store.
Using Popify, you can alert customers of limited-time offers, new arrivals, or other seasonal items.
Once a visitor (AKA potential customer) visits your store and sees that your store is busy and trustworthy, he feels a lot more comfortable buying from you ("The herd effect").
Popup notifications are a great way for getting your products in front of potential buyers and promoting special deals you may have to offer at the moment.
Popify is fully integrated with the Editorify Product reviews app, and you can show your customer reviews as popup notifications as well.
While there are many sales popup apps out there, Popify lets you fully customize the design of your popup, and it also offers ready-to-use popup templates that you can set and use with only a few clicks. You can also set on which pages to show the popups and select specific products that will show.
Pricing  
Free plan available., upgrade to paid plan start from $9.95/month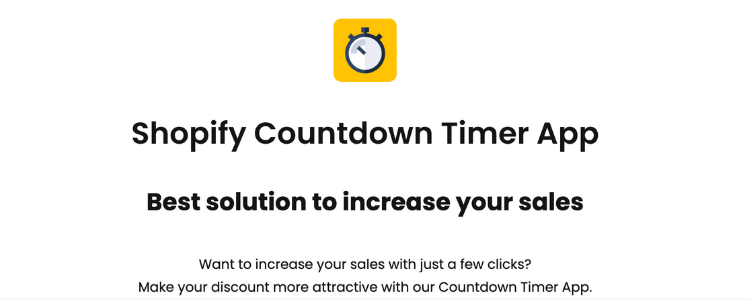 If you want to maximize your sales, a countdown timer bar is the best way to do it.
While social proof is a great way of getting more sales, giving customers an idea of how many hours are left before they can't get a specific deal anymore is a great way of really pushing them to buy.
The Sales Countdown Timer Bar app is the best one out there because you can customize it and set different prices for each hour before the timer runs out. It also lets customers know when an offer will expire by showing a countdown in minutes or hours until they are gone.
Pricing
Free plan available., upgrade to paid plan start from $8.95/month
One of the most have Shopify apps is Keep Cart. It makes it easy for customers to shop across devices.
Some people start their shopping on the desktop but buy things from mobile. Others choose to make the opposite choice. They might have forgotten about some items in their cart on one device and haven't yet bought them, so reminding themselves of those purchases waiting for them is a great way to increase sales!
Keeping a cart is a great tool for customers to make sure they don't forget about items in their cart, leading to higher sales.
Pricing
Free plan available.
Seguno is a great way to increase your Shopify store's efficiency. The Seguno contact automation feature provides welcome and "thank you" messages for new customers, helping them remember you in the future. 
It's clear that when visitors visit your store, it's because there was likely some interest expressed by what they saw. Still, before any money changes hands, you must be built first, so visitors will feel confident about making an order with little hassle involved – and this starts with something as easy as a "welcome email." 
After a purchase is being made, a "Thank you email" will be sent to increase customer satisfaction and increase the chance of a return visit.
Pricing
Free plan available, upgrade based on the number of subscribers. 
People like to know the shipping cost as soon as they can, especially online when there are so many different stores. They want to ensure that what they're getting is worth it in both time and money spent on shipping before making a purchase decision.
A clear free shipping threshold can help you increase the average order value. For example, if customers know they are close to the cutoff for their purchase to be eligible for a free shipment, more of them will likely make purchases from your store! This is because even though it may cost slightly more money and time on both ends (to ship out an item that would have been ineligible), many people still find this worth doing in exchange for getting something shipped at no charge. 
To reap these benefits and others like increased customer loyalty – which stems from trust companies' policies- get Free Shipping Bar for your store.
Pricing
Free plan available., upgrade to paid plan start from $10/month
The POWR Facebook Chat app provides a real-time communication channel for your customers to ask questions. This can help you answer their queries quickly, so they know the product and feel confident in purchasing it from you!
This live chat app allows you to connect your eCommerce store with your Facebook business profile. Plus, it gives you the option of setting up custom features such as welcome message and response time that tell visitors what they can expect when initiating a conversation on this site.
Pricing
Free plan available. You can upgrade to the paid plan to unlock all features, which costs $4.99/month.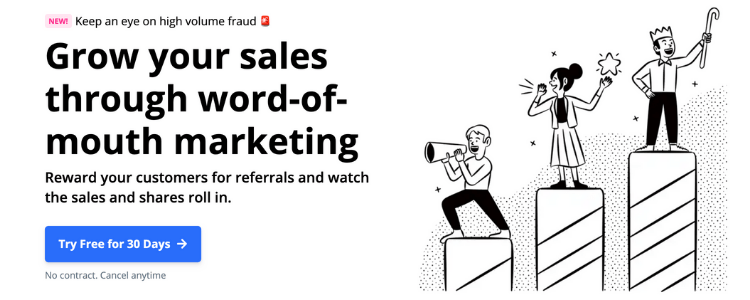 Keep your customers happy with referrals to their friends! Referral Candy is a perfect Shopify app that lets you create custom referral programs for your online store. 
Select which products and discounts will be offered, set up the reward system, add social media features so shoppers can share on social platforms, then watch as people refer all of their friends to buy what they love too.
Pricing
$49/month. 30-day free trial.
Using a Multi-currency converter hero, your customers can see the product prices in any currency they want. It switches the currency of a store for each visitor individually based on their location.
The app also supports Advanced Rounding: You can use it to auto-round the changed price into entire numbers or numbers, finishing with .99, for example, so your visitors will get rounded prices and not fractions.
If you intend to sell worldwide, this is a must-have Shopify app.
Pricing
Free plan available.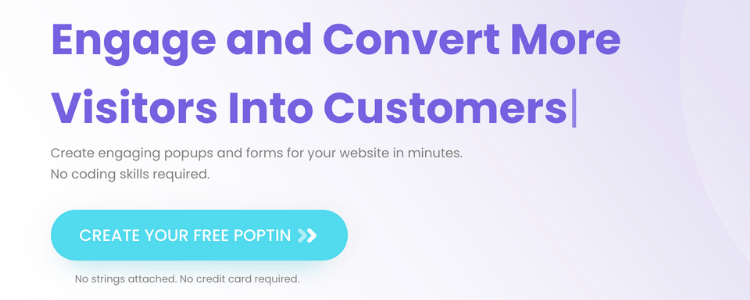 Popups are great for bringing attention to specific items, like a new product or an on-sale item.
With Poptin, you can create different popups and trigger them according to your visitor's activity. One powerful method is to use the exit-intent popups and offer a discount once a visitor tries to leave your website.
Poptin can also help you grow your mailing list with popups that ask visitors to sign up for your mailing list.
Creating popups is super easy, thanks to Poptin's drag-and-drop interface.
Pricing
Free plan available. Upgrade to a paid plan start from $19/month.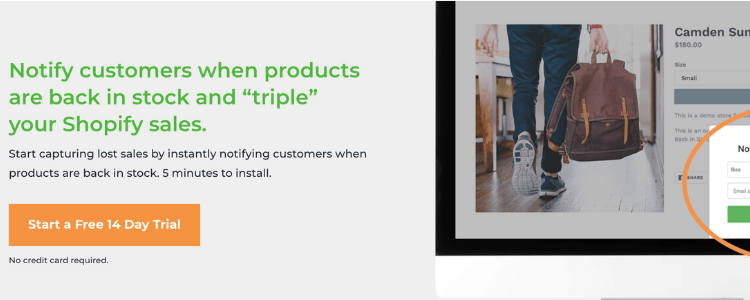 Back In stock is an app that will increase sales for your store by sending customers automatic notifications when a product has come back in stock! When you have the app set up, it sends out emails to all of your customer bases, letting them know when one of their favorite products is available again. You can also set rules so only certain items will get alerts when they come back in stock, not to spam customers.
Pricing
Free plan available. 14-day free trial. The paid plan starts from $19/month.
The Frequently Bought Together app will increase your Shopify sales by making it easy for customers to buy more than one product at a time. When a customer shops in your store, the "Frequently Bought Together" app populates products ordered in the past and displays them below their cart.
Pricing
Free plan available. 30-day free trial. The paid plan costs $9.99/month
Suppose you are running a subscription-based business, such as prepared food or snacks, for example. In that case, the ReCharge app will increase your Shopify sales by reminding customers to renew subscriptions and increase the likelihood of recurring revenue.
The ReCharge app helps remove unwanted back and forth between you and your customers as it empowers them to change, skip, reschedule or cancel their subscriptions with just a few clicks.
Pricing
Free plan available. The paid plan costs 1% + 19¢ per transaction
Using this app, you can increase Shopify sales by optimizing the images on your product pages.
Slow-loading websites lead to decreased conversions and bounce rates, leading to lower rankings in search engines. Not only does this create a poor experience for your online visitors, but it is also bad for business.
Use Image Optimizer to reduce the load times of your images. Speed up site loading time and improve SEO structure for organic traffic.
Pricing
Free plan available. The paid plan starts from 0.99$/month
If you are overwhelmed by customers demanding to know what happened to their orders or tracking numbers, ParcelPanel is a great app that could help alleviate the stress.
ParcelPanel is an online parcel tracking service that allows automatic shipment tracking across 800+ carriers globally. It also utilizes advanced technology to provide graphical network analysis and on-time proof for your orders, saving you a lot of hassle.
You can also set a branding tracking page in the customer local language under your store domain, so you won't get any of the "Where is my order?" kind of queries anymore.
Pricing
Free plan available. The paid plan starts from $9/month
With Wishlist, customers can choose which items they like the most and save them until later, without searching for them again when they want to buy.
Wishlist offers email reminders as well to remind customers of their favorites.
Pricing
Free plan available. upgrade when you reach 100 wishlist items 
While Shopify's email marketing apps might be helpful for a lot of stores, Omnisend is much more robust. You can create automation workflows that customize on the fly and easily integrate into other outbound communication channels – email, SMS, Facebook Messenger.
This app helps online sellers take their marketing to the next level with a wide variety of sweet incentives and SMS to recover lost sales.
For store owners who want to take email marketing to the next level and increase their Shopify sales, Omnisend is worth trying.
Pricing
Free plan available. Upgrade based on the number of subscribers. 
While advertising is a great way to increase sales, optimizing web pages with the free SEO plug-in will increase organic traffic. 
It gives you suggestions on improving each page depending on the search words being used in combinations so that your content comes up when people are looking for the information.
Pricing
Free plan available. The paid plan costs $20/month.
The Preorder app lets customers reserve or preorder products that currently aren't in stock.
The app will show the "Notify me" button on Out Of Stock products. You can automate the notification process so that customers automatically get notified when your products are back in stock.
When your customers click on the "Pre-order" button, they will be redirected to a normal product page available for preorders. You can sell products even when they are out of stock.
Another great feature is when making a preorder, your customers have the option to pay a full payment or a partial payment.
Pricing
Free plan available. Upgrade when you want to enable preorder for more than five products. 
DelightChat is a Shopify helpdesk to manage customer support across channels from a single screen. Fast-growing Shopify stores use us to streamline customer service requests, reduce response time, and stay on top of all customer queries.
With Delightchat you can:
Improve Customer Experience to Scale Up Sales
Easily manage Emails, Messenger, and Facebook/Instagram comments from a single screen while collaborating with your team.
Automate support tickets
Reply in 2-clicks using Fast Reply templates.
Pricing
Free plan available. Upgrade when you reach 100 support tickets. 
The bottom line
Choosing the best Shopify apps for your store is a challenging task, so make sure to check out this list before you go hunting.
While it looks tempting to go ahead and start paying for a full features plan, take the time to research each app and each plan it offers and see which one is right for your store. Most of the apps listed above offer a free trial.
It's important to remember that the key to success in your online business is consistency, and while these apps are great tools, you will still need to make most of the research and marketing adoptions by yourself.