How to get started with Alibaba dropshipping business?
Many people who start a dropshipping business usually get stuck with dropshipping suppliers that are too expensive or don't have enough inventory. Alibaba is a good source for finding alternative dropshipping suppliers at more affordable prices. This blog will cover the main reasons Why Alibaba dropshipping is a good choice for your eCommerce store and the main reasons you should prefer Alibaba dropshipping over other familiar dropshipping sites.
What is Alibaba?
Alibaba is an online marketplace operating in China, India, and Southeast Asia which connects buyers and suppliers worldwide. Alibaba is a great place to find alternative dropshipping suppliers because they have lots of smaller wholesalers that will offer products at lower prices than if you were sourcing them in your own country.
Alibaba has over one million wholesale companies with more coming every day, which means it's always easy to find a new good supplier for the product you want to dropship.
Alibaba is a good place also to find dropshipping suppliers that provide cheap and fast shipping for your customers. There are lots of different types of items on Alibaba. This includes clothes, electronics, food, and even furniture. There is a huge range of different kinds of products available on Alibaba, making it very easy to find these items for your store or business.
An essential thing about Alibaba dropshipping is that its prices are often lower than ordering the same products from your own country. 
What are the benefits of dropshipping from Alibaba? 
Good rating system
Alibaba has a rating system that lets you see how reliable sellers are to find out which suppliers will give you the best service. You can also see how long it will take for the supplier to deliver your order and what shipping costs you are likely to incur. Alibaba makes it very easy to find suppliers with a good reputation because they allow customers to leave reviews of their experience with each business which is then displayed on the product page, meaning you can read these before making an order. This will show you which suppliers are best to work with and the pros and cons of each supplier. 
Good tracking service
Alibaba also has a notification system that sends an email when your order is completed so you can know how well it went from start to finish, meaning there's no need for any guesswork or second-guessing. 
Low prices
Alibaba has some of the lowest prices in the world, so if you're looking for an alternative supplier with lower costs, Alibaba is a good option. 
Large selection of products and suppliers
Alibaba has over 800 million listings in its database, which means there are plenty of options to find what you need! You can find anything from inexpensive plastic toys to expensive high-resolution cameras, as well as everything in between. They also have the most significant number of manufacturers on their site, so if manufacturer A doesn't produce an item that suits your needs, you can check with manufacturer B and manufacturer C.
International buyers and drop shippers are welcome
Alibaba has a lot of suppliers that are looking for international buyers. If you're looking to buy from Alibaba as an outside source for your dropshipping store, the site is beneficial for international buyers. They have a currency converter that makes it easy to convert prices and currency types to avoid confusion about conversion rates. Alibaba also is beneficial when it comes to drop-shippers. Unlike supplier sites like eBay, which doesn't want third-party sellers, Alibaba welcomes international buyers and drop shippers.
Variety of payment options
You'll find that there are a variety of payment options available when you're buying from Alibaba. Among the more popular choices are bank transfers, PayPal and Western Union.
Transparent reviews system
Alibaba has a transparent review system where customers can rate sellers based on their transactions with either neutral, negative, or positive comments. This is beneficial because it lets other shoppers know which suppliers are the most trustworthy and reliable. 
User-friendly interface 
Alibaba is a super user-friendly platform, and it has been translated to English, French, German, and Spanish. In addition, Alibaba provides you with the option of viewing all of your orders in one place, which is excellent for business owners managing a high volume of orders.
Downsides of dropshipping from Alibaba
The truth is that Alibaba has a ton of benefits for the dropshipper who wants to start selling products internationally, but there are also some drawbacks worth mentioning. For example, it can be challenging to decide which supplier you should buy from because they all look so repetitive, and it's hard to tell which one is reliable. Reading feedback can be helpful, but it doesn't always reflect the entire truth. There could be a gap between different product qualities because the products are manufactured in China, and the quality is not always persistent.
One of the most challenging parts about working with a Chinese supplier is that it can be hard to communicate with them because they speak Mandarin. You typically have to rely on Google Translate or the Alibaba translation system.
Another disadvantage of dropshipping from Alibaba is that some suppliers may require minimum orders; if this is the case, you will need to place a bulk order or use a third-party warehouse.
Why should you use 3rd party warehouse?
When it comes to dropshipping from Alibaba, it's best to work with a third-party warehouse. A third-party warehouse is a company that will store your products for you while you wait to receive orders.
The advantages of using a third-party warehouse include:
Lower costs per unit.
More control over inventory levels.
Identifying yourself as the seller of your products on all packing slips.
Putting your brand on the products.
How to identify a trustworthy supplier on Alibaba 
An excellent way to find a trustworthy supplier on Alibaba is by going through some of the reviews and testimonials from previous customers. You'll be able to get an idea about what other previous customers are saying, their experiences with that specific supplier, and how satisfied they were at each stage during the transaction process. This can help you decide whether or not this supplier is worth your time.
This will also help you identify a supplier with an established reputation who has completed orders in the past and delivered what they promised, which means that there's less chance of mistakes happening down the line. 
Furthermore, if you find a supplier and are about to place an order but want some reassurance that they're trustworthy, the best thing you can do is contact them via the Alibaba messaging system or email. This way, your questions will be answered directly from the person who's running their business – no middleman involved!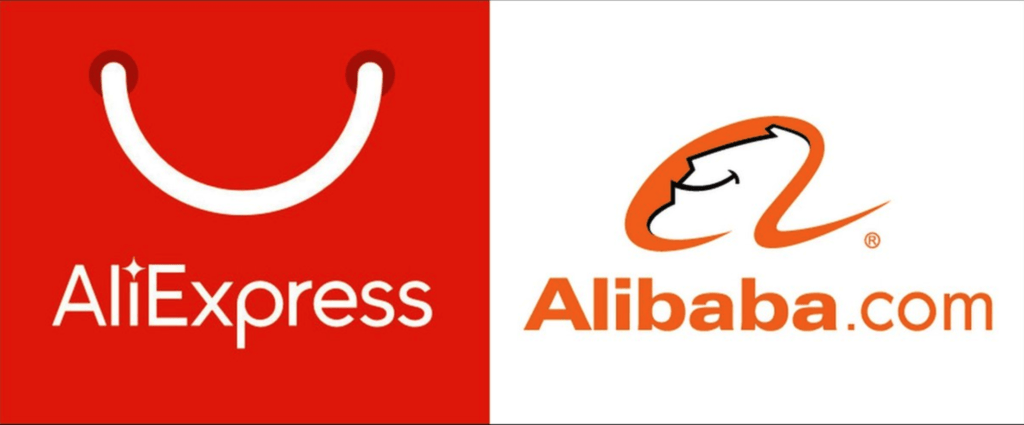 Dropshipping from Alibaba Vs. Aliexpress
When comparing dropshipping from Alibaba vs. dropshipping from Aliexpress, there are a few differences to be aware of.
If you need more customized items and a more wholesale approach, then Alibaba is a better choice. Aliexpress, on the other hand, specializes in smaller items and offers a broader range of products to choose from at rock bottom prices – everything from clothing to kitchenware. Alibaba also doesn't provide much help with product descriptions or images, whereas Aliexpress does.
If your products are small and of low quality, then go with Aliexpress dropshipping because they're cheaper. Suppose you have the budget for it, though, and you need to order stock. In that case, Alibaba will provide better service without compromising product quantity or quality – so if that's important to you, I would go with Alibaba.
Another big difference between the two platforms is shipping. Aliexpress offers free shipping on orders over $18, whereas Alibaba will charge you for the shipping cost, which usually ends up being a little more expensive than what's available with Aliexpress.
Alibaba and AliExpress both have certification programs for suppliers to verify their legitimacy. While Aliexpress verification is more traditional, on Alibaba, the way of confirming the authenticity of a vendor is by checking whether they exist in real life, rather than just being retailers who buy and sell products in bulk from another retailer. This gives Alibaba more credibility points over Aliexpress.
Most people will consider Aliexpress a dropshipping platform, but that's not the case since the dropshippers are paying end consumer prices and not wholesale prices.
Keep in mind, Aliexpress is a top-rated drop shipping source, so the competition is very high. On the other hand, Alibaba has less competition, and you might find better prices and a wider variety of products.
Another resource worth checking out which compares Alibaba to Aliexpress is nichedropshipping.com.
Conclusion
Alibaba is an excellent source for finding quality suppliers for dropshipping. They offer a wide variety of products, and their pricing is competitive with many other wholesale companies. The Alibaba company has been around for over 18 years now, so they are one of the most established wholesalers on the market.
Dropshipping from Alibaba offers an excellent way to start your dropshipping journey in a place where the competition is smaller. It can be a great way to build your store up before moving on to other suppliers.
While other well-known shopping sites like Amazon, Aliexpress, and Etsy might be a good place for finding products to dropship, Alibaba is excellent when it comes to diversity and selection.