How to Build Your First Wix Online Store From Scratch
Wix is a website-building platform that allows anyone to build their online stores quickly. It's easy to use and has many apps for you to choose from, which saves time when making your store. You can either start from scratch or import a template if you want an off-the-shelf design. This blog post will go over how to build your first Wix online store from scratch with step-by-step instructions!
Most people think that creating an online store using Wix will be a lot more complicated than it is. Maybe you are worried it will take days, or even weeks, to set up your new store, but the truth is that you can have an online store up and running in as little as a few minutes.
Wix offers hundreds of modern, sleek templates for every type of business imaginable and gives you the power to make your website look however you want with its drag-and-drop editor.
If you're looking for the best place to build a Wix online store, look no further. I'm here to help with everything from ״how to design״ it all the way down to optimizing your conversion rate.
Is Wix Online Store good for e-commerce?
Wix is one of the best comprehensive eCommerce platforms around today. Suppose you're setting up your own eCommerce business and don't have much technical knowledge or web design skills like a web design company. In that case, Wix will be perfect for getting started with building your brand image on an easy-to-use platform that comes complete with ready-made templates. Wix includes all the tools you need to create an attractive online store.
Register a Wix account
To create a Wix account, you first need to go to the Wix homepage (wix.com) and click on "Get started" in the center of your screen. Select "Sign up" and fill up your details. Or you can connect through Facebook or Google if you prefer.
Wix will show you a confirmation page with the title of your website. Congratulations! Your online store is now ready to be used!
You will need to subscribe to the Wix eCommerce plan to start selling products online. You can upgrade your plan right after signing up, but we recommend using the free plan for your store – that way, you can make sure it has everything you need before spending any money.
The next step is to pick a suitable template for your store.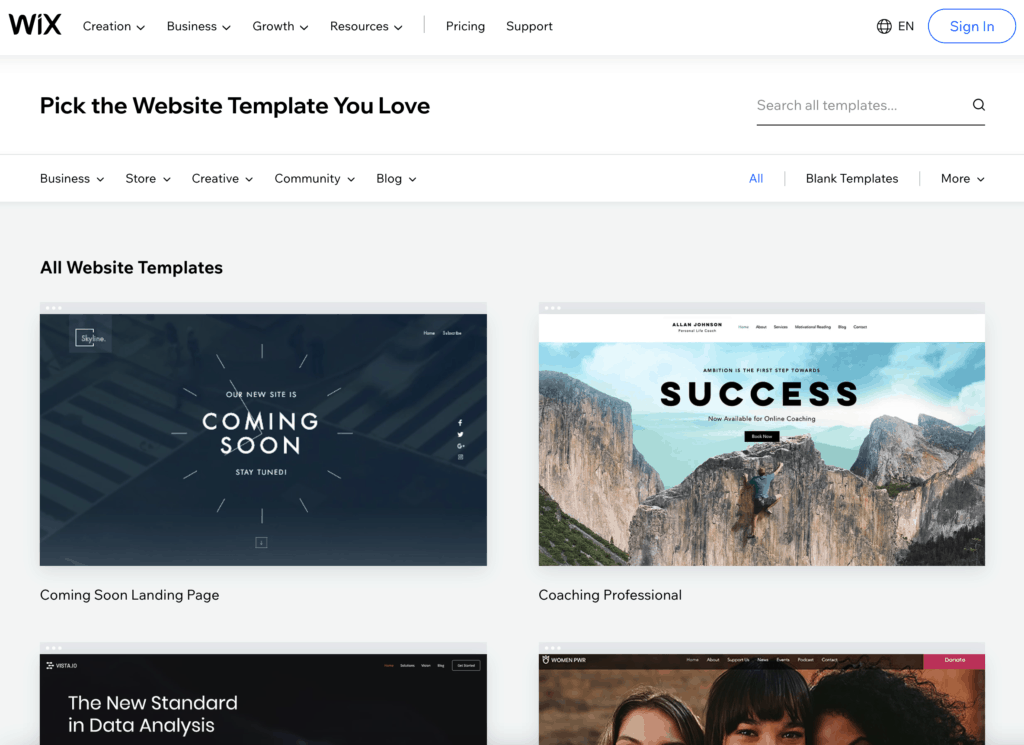 How to choose the Perfect Wix Store template
You can decide whether to start building your store from a template or to use the Wix ADI, an AI-powered tool (artificial intelligence) that creates a website in minutes based on your answers to a few basic questions. This may be a good option if you don't want much customization and prefer the convenience of getting a ready-to-use store right away.
Looking for a suitable template can be an arduous task. Between the hundreds of choices and endless scrolling, you have to find the perfect one! But Wix has designed their templates store with just this problem in mind: they offer templates to suit any product, from handbags and t-shirts through pet products. With 900+ options available, it should take no time at all for your store to look as professional as possible.
It would help if you considered many factors before selecting a particular template layout – it needs to have enough space for large images and flexible enough so even products with many variants could be viewed with ease. Make sure that your chosen theme allows customization options as well. Some themes only allow a limited number of variations and may not suit all your business needs in their current form.
If you're selling many different products, then your template should work well with large product galleries and collections. If you have lengthy descriptions for each item, make sure that there is enough character allowance to let the user fully describe everything their listing contains.
If you have a lot of content in your store, it is essential to think about how visitors will find their way through all the categories and sections. A navigation bar that can be placed in various places throughout or at the top of each page would serve this purpose well.
Customize your store
Customizing your template to match your brand is the perfect way to connect with customers and convey a strong message.
The success of any business starts with an attractive storefront that conveys the vision, mission statement, and branding effectively. An outdated or poorly designed store will turn potential clients away instantly while compelling copywriting encourage them to stay on for longer periods which means more opportunities for conversion!
While using a ready-to-use Wix template is a great option to get started with, your should customize your template to represent best the essence of what you're trying to sell.
A few things to keep in mind when customizing your template:
1) Change the default template images to fit your brand colors and the type of products you're selling.
For example, if I'm selling drones in my store, having a background image of baby clothes isn't the right choice.
2) Change the font to fit your store style
3) Edit the text to match your brand and products. With the intuitive Wix editor, these changes are pretty straightforward.
After finishing customizing your store, you can publish it and move on to the next section.
Adding products to your store
Now that you've chosen a suitable look for your Wix store, it's time to customize the actual store. Click on the My Store icon in the left sidebar of your Wix editor and choose "Add Products" from the resulting dropdown.
The next step is adding all of your product info. You'll be able to create its name and description, upload photos or videos, and select variants such as different colors or sizes.
Now, repeat this process for each product you want to display in your store.
If you're not selling your products and running a dropshipping store, let me show you a tool that will save you a lot of time manually uploading products to your store.
For this purpose, we are going to use the Importify product importer app.
Using Importify, we will import products from any supported wholesaler to our store within a few seconds.
Importify also extracts the product images and variants for all existing combinations on the supplier site.
Using the Importify chrome extension, you will be able to import products from many popular sites, such as AliExpress and Amazon, and change your products Title, Description, Pricing, and much more within just a few clicks.
Importify offers a seven days free trial for Wix users. Click here and start import products.
Update your store settings
Inside the Wix editor, open the Settings tab at the top of your screen, then click on Business Info.
Here you'll enter your store name, contact information, language, and currency. You can also set the shipping rate.
Recommended apps
Once you're done setting up your store, some great apps will make it stand out from the rest.
Some of our favorites include:
Wix Countdown clock – To get your audience on board, you need something exciting and attention-grabbing. Presenting a countdown timer is the best way of doing this because it creates suspense for what's coming up next while also reminding people that there will be even more excitement at some point in the future if they return then. This app lets you do just that by using a smart counting system toward a special sales or promotion you have to offer.
Wix Chat – Today, people are more inclined to use their smartphones as the primary way they browse and purchase items online. As a result, many of them turn to social media for help in making these decisions. That's why we recommend installing Wix's chatbot onto your site so that you can provide the best customer service out there.
Site Booster – Site Booster is a powerful SEO app that will help you rank your site higher in Google. This app can also be used to grow traffic, which makes it the perfect tool for those looking for more exposure online.
Get better results
We know that your ultimate goal is to sell more, so in this section, we want to share with you a few more recommendations that will help your store conversion rate go up.
While the Wix App Market offers many apps for customization and SEO optimization, it also has an excellent selection of apps that you can integrate with your store and get a better conversion rate.
The two apps we use for this purpose are called "Editorify" and "Popify."
The Editorify app allows customers to collect and import reviews from popular websites like Aliexpress. With Popify, you can add smart, attractive, and converting notifications to your store and boost your sales.
Editorify and Popify are two great tools to make your store stand out from the rest. As we all know, social proof is essential in attracting new customers. These apps will make your store create the impression of a high visited trustworthy shop and help to convert more potential visitors to customers.
Conclusion
While some people think that building a Wix store is a daunting task, it's one of the easiest ways to start selling online. You can either create your design or choose from their many templates and get a professional look in no time at all.
With the right templates and apps available on the marketplace, you can customize your store with ease and start right away,
So what are you waiting for? Start building your store today and start making money!